Discover more from All Over Cricket
Articles and insights for the global cricket fan by a diverse team of writers
Dawn of a New Era for Nepal
Faster pitches, a new opening partnership, and aggression in the middle overs: Rajan Shah discusses why we may be witnessing the birth of a new Nepal
In normal circumstances, the Nepal Men's team would be grabbing headlines for breaking a longstanding world record off a teenage player's exploits. But this time it was different.
24-year-old Kushal Bhurtel won the player of the tournament award in his debut series. This is not the first time that someone in his mid-20s has debuted for Nepal's Men but never has anyone had such an impactful beginning. Bhurtel scored four half-centuries in five matches, including a world record of three back-to-back half-centuries in his first three international innings.
Unlike previous debutant batters, all signs indicate that Bhurtel is here to stay. In addition to his fireworks in the Powerplay, he exhibited a mature side of his batting in the final match of the Tri-Nation Series, where he crafted his highest score of the tournament. He was 24 off 26 and 45 off 40 deliveries at the end of the 8th and 12th over respectively. He went on to score 77 off 53 before being dismissed in the 16th over. He took his time but eventually helped Nepal notch up 238, their record total in T20I cricket, and Nepal's record win by a margin of runs (142).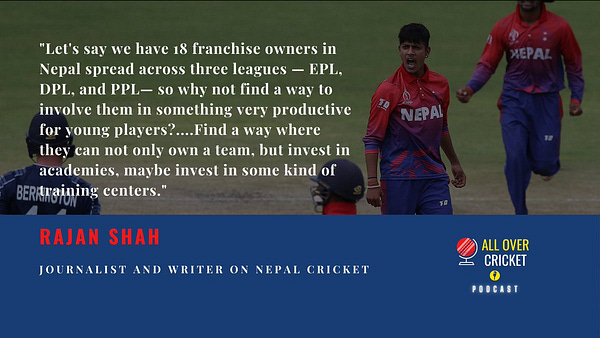 Bhurtel's success has kick-started the dawn of a new era in Nepal cricket: an era in which Nepal's batters rather than their spinners are the main attraction. Nobody would've related that statement to them a week ago. Bhurtel is the main catalyst of a newfound self-belief in Nepal cricket.
More intent, more aggression, more boundaries
From struggling to chase a total of 138 in 50 overs to posting back-to-back 200+ scores, Nepal's improved approach and execution with the bat is visible for all to see. Out of the top ten run-scorers in the series, five of them were from Nepal, and each of those five had a strike rate in excess of 138. Although Bhurtel (278) and fellow debutant opener Aasif Sheikh (154) top-scored for Nepal during the tournament, Dipendra Singh Airee re-inventing himself was arguably the biggest plus of the series.
Before the series, Airee used to score 6.5 runs per over finding a boundary every 10.7 deliveries with a boundary percentage of 38.8: the lowest amongst Nepal's recognized batters. After the series, his scoring rate rose to 7.7 runs per over, on par with Nepal's most productive batter Paras Khadka. His balls per boundary decreased to 7.3 and his boundary percentage increased to 63.3. Airee's rise as a middle-overs livewire, which in fact is the most difficult phase to score runs, paralleled Nepal's rise as a batting juggernaut.

Even teenage sensation Kushal Malla—'the original Kushal' if you will—took his game to another level. He scored a six every four deliveries in the series. He faced 41 balls and scored 10 sixes off it including two boundaries. An important unbeaten 50 in the final marked his hunger for the big occasion, where he went on to become the youngest batter in the history of men's cricket to register a half-century in both ODIs and T20Is.
The Whatmore Effect
It is no coincidence that Nepal's fresh approach to T20 batting coincided with the appointment of Dav Whatmore as Head Coach. The World Cup-winner has a track record for building aggressive teams, demanding that his players take risks even if they die trying. Whatmore was keen on Sompal Kami opening after Nepal's repeated failures at that position. The last-minute decision to open with the fresh duo of Bhurtel and Aasif Sheikh, although surprising, paid rich dividends. In addition to Whatmore, skipper Gyanendra Malla, who relieved his batting position to promote both the young batters, deserves credit for Nepal's revitalized opening combination.
Fast bowlers rejoice on friendlier surfaces
The ground staff, led by pitch curator Madhu Tamang, should be applauded for producing surfaces rarely seen before in Nepal. In what was a heart-warming gesture, Nepal's players were seen acknowledging them after the final match in the background during the post-match press conference.
Wickets at the Tribhuvan University Ground (TU Ground) have traditionally been slow and low, but after the pandemic-enforced lockdown, they suddenly sprung to life. TU Ground now offers bounce and carry for the seamers and the ball comes on nicely for batters. This change is reflected in the numbers registered by Nepal's bowlers throughout the tournament. 
Sandeep Lamichhane led the wicket-taking charts, but Nepal's quartet of seamers—Sompal Kami, Karan KC, debutant Kamal Singh Airee and even a struggling Avinash Bohara—all registered a better economy rate than he did. Overall, it was a poor series for spinners. A forgettable debut for the much-hyped Shahab Alam was followed by Sushan Bhari's continued struggles with form and consistency. All three spinners tried by Nepal were more expensive than the pacers.
The story was similar for all the teams in the tri-series, which made captain Malla's decision to go with Lamichhane ahead of Kami in the final league match between the two eventual finalists seem all the more strange. It was Nepal's only loss in the series after Lamichhane conceded 20 runs in the 18th over followed by Bohara's 19 in the 19th. Nepal lost by three wickets defending 206 runs as Kami finished the match with two overs remaining in his quota.
To their credit, Nepal learned their lesson. The hosts picked four pace bowlers in the final playing XI of the series, where the Netherlands suffered a monumental loss being dismissed for 96 in pursuit of 238. Player of the final Karan KC, Kamal, and Bohara shared six wickets between themselves, and Lamichhane, strengthened by support from the other end, also chipped in with a couple to top it all off.

In another welcome change, Nepal's spinners have taken a back seat and their pace battery, much like their batting line-up, has risen to the occasion. It's been that kind of series for Nepal.
They didn't even miss Paras Khadka. That's how good they were.
And that, along with all of the reasons highlighted above, is why the largest fan base in associate cricket is feeling hopeful about a new and improved Nepal.