Discover more from All Over Cricket
Articles and insights for the global cricket fan by a diverse team of writers
Shafali is a T20 Beast… And the Numbers Prove it
Analysing Shafali's overall T20I numbers and numbers by phase
Shafali Verma's omission from the ODI squad to face South Africa in March of this year has to go down as one of the worst non-selections in recent memory. With twin fifties on her recent test debut against England, she banished any concerns that her temperament and style of play weren't suited to the longer formats of the game.
The fact of the matter is, in spite of being a mere 22 games into her T20I career, she's changed what we think is possible for batters in women's cricket. Don't believe me? Then believe the numbers.
Fastest of the Fastest. Downright Dangerous
Since the beginning of 2018, Verma's overall T20I strike rate of 148.31 is second only to Alyssa Healy's marginally better 148.47.
When we plot the strike rates of the fifteen fastest scorers in T20Is since January 1st 2018 against their respective averages, Verma, in a reflection of her consistency, features close to the middle on the latter metric. In terms of strike rates, she's up at the top with Healy and South Africa's Chloe Tryon before daylight separates them from the rest of the pack.
Stunningly, for someone who only turned 17 earlier this year, she hits 6.97% of her deliveries for six, which is second only to Tryon for batters who've hit at least 20 maximums since the start of 2018. The South African, however, averages 19.52 since January 1st 2018, compared to Verma's 29.38. The Indian opener's overall boundary percentage of 24.52 is (once again) second only to Healy who hits 25.18% of her deliveries to the ropes or beyond.
Unmatched in the Powerplay. Essential for India
At this stage, it's clear that Shafali Verma is both dangerously consistent and consistently dangerous. If for some reason, you're still not impressed with her narrow second-place finishes on each of the above metrics, you need to feast your eyes on her exploits in the Powerplay.
She strikes at 162.11 inside the first six overs. That is by far the highest for anyone with a minimum of 300 runs in the Powerplay since the start of 2018. If you guessed that Alyssa Healy is next, you'd be correct. Remarkably, however, she strikes a full 20 points lower than Shafali at 141.81.
With a penchant for lofting bowlers over their heads and over cover when the field is up, Shafali is the single most dangerous Powerplay batter in T20Is, averaging a healthy 35.54 in the phase to boot. It was arguably these very Powerplay exploits that played the biggest role in propelling India to the final of the T20 World Cup. Her impact for India can be summed up by the difference between her strike rate and the strike rate of the rest of India's batters since the beginning of 2018, which stands at 38.81.
Among batters to have scored a minimum of 400 runs in the same period, Shafali's strike rate differential is bettered only by Chloe Tryon at 39.78. Scotland's Sarah Bryce, Sri Lankan Chamari Athapaththu, and Ireland's Gaby Lewis occupy the third, fourth, and fifth slots, respectively, although it must be noted that the women's game is still developing in those regions.
In any case, it's astounding to think that India's batting fortunes rest so heavily on the shoulders of a teenager. It's no wonder, therefore, that a billion hearts sank when she was caught behind in the first over of the T20 World Cup final.
Room for Improvement Post-PP
Shafali's record after the Powerplay is proof that she is human after all. Across her career, she's scored 155 runs in 131 balls after the fielding restrictions have been lifted, and has been dismissed 9 times in the process. That translates to a strike rate of 118.32 and an average of 17.22, which is half of what she averages in the Powerplay.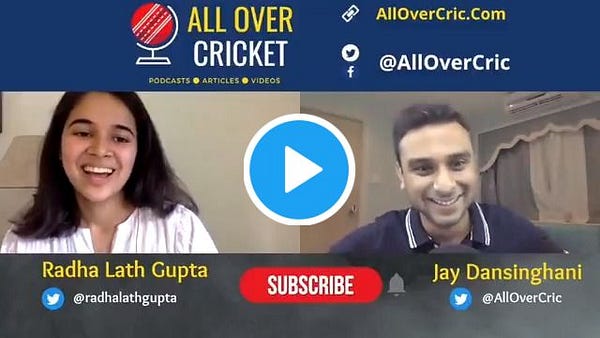 In fact, those stats only take into account overs 7-15. Shafali is yet to make it to the 16th over of a T20I innings. When the field spreads out, going over the inner ring is no longer as fruitful as it is at the start of the innings. In order to develop into a more complete T20I batter in the mold of someone like Alyssa Healy, she will either need to find new ways to score in the post-powerplay phase, or she might be well served by dropping down a gear.
Even in the absence of a women's IPL, Shafali will have the chance to fine-tune her batting in professional settings outside of the international calendar when she turns out in the WBBL and when she features for Birmingham Phoenix in The Hundred.
In the more immediate future, the T20I series against England gives her a chance to build on a tour, where she has demonstrated that she is so much more than just a T20 hitter. 
Header Image: Courtesy ICC
—————
We hope you've enjoyed this piece. If you're a fan of a more global and gender-inclusive sport, please do sign up for this e-mailer, and if you'd like to, share this piece too.
Your interaction will help us grow especially with newer readers, so leave a comment. We appreciate all responses :)
Lastly, you can find us on Twitter and Facebook