Discover more from All Over Cricket
Articles and insights for the global cricket fan by a diverse team of writers
Ahmed Raza's World Cup Obsession
UAE Men's Captain Ahmed Raza talks about his cricketing origins and rebuilding the UAE post-2019
Ahmed Raza looks up at the ceiling to recall a memory. He pauses, runs his fingers through his beard, and leans into the camera. The current UAE men's skipper is about to tell me something he has never opened up about in an interview.
It's barely been 48 hours since he led the UAE to the Qualifier A trophy, which allowed them to qualify for the 2022 Men's T20 World Cup. It's a remarkable feat considering that just two and a half years earlier, several UAE veterans were implicated in a corruption scandal that rocked their T20 World Cup Qualifier campaign in 2019.
Since UAE cricket's lowest ebb, Raza has played a central role in rebuilding the national team, arguably making them stronger than they've ever been. It is hard — nay impossible — to imagine such a dramatic turnaround without the talismanic skipper.
However, in spite of his recent success and triumphs, Raza says his career could have ended before it even started…
Raza comes from a humble background. His late father Syed Zahid Kazmi moved to Sharjah in 1972 to work as an electrical engineer, and had a daughter and three sons, including his youngest Ahmed, to support.
In spite of working long hours, the family patriarch regularly found time to take Ahmed and his siblings to Sharjah Cricket Stadium to watch live cricket being played.
'Our house was literally five minutes down the road,' recalls Raza in conversation with All Over Cricket.
'We could hear the noise from the stadium in our house! And dad loved cricket so our family outings were going to Sharjah stadium to watch a Bukhatir League game or a 35-over game during Ramadan.'
The annual Ramadan tournament in particular would draw big names such as Virender Sehwag, Vinod Kambli, Mohammad Sami, and a host of Sri Lankan stars.
Inspired by the cauldron-like atmosphere at Sharjah and the good fortune to see some of the world's best players up close, a starry-eyed Ahmed Raza dreamt of playing international cricket.
Conversations with his friends and classmates led him to the Young Talents Cricket Academy (YTCA) run by former UAE international Shahzad Altaf. YTCA had — and still has — a track record of churning out players for the UAE's senior and age group teams.
Unsurprisingly, being a private coaching clinic, the fees could get steep, especially for a family that lived a modest lifestyle. In spite of the fact that he had to pay college tuition for two of his children in addition to secondary school fees for two teenagers, Kazmi did not flinch when it came to paying for Ahmed's passion.
Until one day, the bills started to stack up.
'I cannot afford it anymore,' said Kazmi to young Ahmed.
'So I went back to Shahzad sir and I said "my father cannot afford your fees anymore." And the great Shahzad Altaf said to me — and I'll never forget this —"Beta, you're most welcome. You don't have to pay anything. Just keep coming".'
Humbled, Raza immediately began to repay Altaf's generosity. He rose through the age-group ranks and was soon promoted to captain the UAE U-19s. Combining his height with unnerving control, the left-arm spinner quickly developed a reputation as a frugal and reliable operator with a sharp cricketing brain. It was, therefore, unsurprising that he was soon called up to appear for the senior national team.
UAE's Head Coach at the time, Aaqib Javed believed the Sharjah-born spinner had leadership potential, so he started grooming him to take over from long-time skipper Khurram Khan, widely regarded as UAE's best-ever player.
In December 2014, in the fourth ODI of a series against Afghanistan, Raza was asked to lead the side in the absence of Khan in spite of not playing a single game in the series until then. He led his side to victory in that fixture allowing them to seal the series 3-1.
He was not included in the UAE's squad for the 2015 ODI World Cup, after which the retirements of senior players such as Khurram Khan and Mohammad Tauqir created opportunities for younger players and left the UAE with a leadership vacuum. Raza was appointed captain for Hong Kong's tour of the UAE, which included an Intercontinental Cup first-class fixture and two World Cricket League Championship ODIs.
Sadly, things did not go to plan as Raza's men were hammered by 276 runs in the I-Cup game before losing both subsequent ODIs. Things went from bad to worse after Raza could not prevent two more defeats to the Netherlands in their next two WCL Championship matches.
He was soon removed from the captaincy — an arguably contentious decision for a player captaining an inexperienced side in transition against the two best teams in the World Cricket League.
In spite of the UAE winning four out of their last six WCL Championship games, they were relegated to the six-team WCL Division 2, where they had to finish in the top two in order to advance to the World Cup Qualifier.
This is when Raza stepped up to the plate. He took 10 wickets in 6 matches at WCL 2 in 2018 en route to the UAE winning the trophy. Raza admits it was the hardest series he's ever played in.
'I've never played in a tournament that was more important in my life. You could be a ball away from losing your contract, losing your ODI status, and losing four years of you in your peak,' he says.
In March of the same year, the UAE advanced to the Super Six stage at the World Cup Qualifier, retaining their ODI status until 2023 and earning a berth in the Cricket World Cup League 2. While they didn't make it to the World Cup, they famously defeated Zimbabwe in their final Super 6 fixture, knocking the hosts out of contention for a World Cup berth.

🚨 NEW ARTICLE ➡️
bit.ly/3pnBQ56
⬅️ Jay looks back at Ireland's Qualifier campaign & analyzes their chances of advancing to the Super 12s at Men's
#T20WorldCup
☘️ More intent in middle & death overs ☘️ Rise of McBrine ☘️ How they might fare vs 🌴+🏴󠁧󠁢󠁳󠁣󠁴󠁿 📸
@ICC
#Cricket
Later that year, Raza was player of the tournament at the Asia Cup Qualifier, leading the tournament wicket charts with 16 wickets in six games.
Heading into the 2019 T20 World Cup Qualifier, the anticipation was high for both Raza and the UAE, who were set to host the tournament on home soil. Not only was the transition from 2015 complete, it looked as if the UAE had assembled what was arguably their strongest-ever team.
And that's when Raza and many of his teammates were betrayed.
'I don't really like talking about what happened in 2019 and it's not because I'm not comfortable talking about it, but it's because they don't deserve the air time at all. They did what they did, they got punished,' says a stoic Raza, who replaced then suspended Mohammad Naveed as skipper ahead of the Qualifier.
Over the next few days, another three players were handed suspensions pending investigations with a fourth player absconding to Pakistan under suspicious circumstances. As things stand, six UAE players who were part of the 2019 Qualifier squad have received bans ranging from four to eight years for various anti-corruption offences.
Raza, however, is proud that the UAE was just one victory away from making the World Cup in spite of the challenging circumstances they were faced with.
"We didn't feel bad for them. They were the ones doing wrong, they were the ones betraying us. Not even once did I blame the people who were there with us in the Qualifier that we couldn't make it [to the World Cup]."

🚨 Harry Tector EXCLUSIVE!! 👉
bit.ly/3z0gIV2
🗣️
@harry_tector
opens up about: ☘️ Being dropped from the U19s in 2015 ☘️ Captaining Ireland at 2018 U19 WC ☘️ Breaking into senior team ✍️
@malhar_hathi
Thanks for setting this up
@Stuff_by_Craig
#IREvSA
#BackingGreen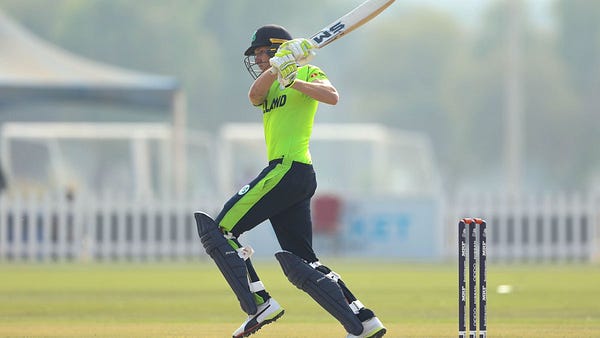 After the Qualifier, Raza was installed as the full-time UAE Men's Captain. The side was clearly in transition, yet the turmoil of 2019 has proven to be a blessing in disguise for Raza and his men.
Prior to 2019, the chance to represent the UAE was a pipe dream for many promising youngsters who came through the Under-16 and Under-19 system. They were stuck behind a queue of senior players, including the now-banned set of players, who were all in their thirties.
However, in the first game that UAE played after the Qualifier, an ODI against the USA in Cricket World Cup League 2, Raza handed ODI debuts to six different players. More UAE debuts were to follow in subsequent tournaments, which further incentivized players to stick around in the UAE's talent pathways. 
In February 2020, Head Coach Dougie Brown was sacked with former Indian all-rounder Robin Singh being brought in both as Men's Head Coach and Director of Cricket at the Emirates Cricket Board (ECB). Given that the UAE retained ODI status during Brown's tenure and that they won three out of their first six CWCL2 games as a team in transition, his sacking was arguably harsh.
Nonetheless, to Singh's credit, one of his first moves as Director of Cricket was to introduce 10 full-time contracts and 10 part-time retainers for a core group of players. Encouragingly, seven out of the ten retainer deals were given to players aged 22 or younger.
'I'm more inclined towards the players that we produce because we invest so much in them,' says Raza, highlighting the importance of backing homegrown talent.
'They get the opportunities so they see a future here as well. They want to be the next Chirag Suri, they want to be the next Ahmed Raza, or they want to be the next Rohan Mustafa. They don't want to leave the country and play somewhere else after playing the Under-19s and Under16s here.'
Without a doubt, these opportunities have furthered the careers of various players and improved the UAE's on-field fortunes. 19-year-old Vriitya Aravind was the Player-of-the-tournament at the Men's T20 World Cup Qualifier A this February, amassing 267 runs in five innings at a strike rate of 154.
Mohammad Waseem has emerged as one of the most dangerous openers in associate cricket, smashing two T20I centuries against Ireland in the last six months.
Prior to 2019, Chirag Suri spent years shuffling in and out of the UAE's starting line-up. A more secure place in the XI has allowed him to notch up the first two ODI centuries of his career this year, including a player-of-the-match 115 in a challenging chase of 308 against Oman.
In ODIs, the ever-astute Raza has adopted a horses-for-courses approach, sending in CP Rizwan when the UAE has had to chase modest targets in tougher batting conditions. Twice in the space of four innings, Rizwan top-scored with 109 in a victory over Ireland and 76* in a win over Oman.
All-rounders Basil Hameed and Kashif Daud have added balance to the UAE line-up, allowing them to play six bowlers without compromising on their batting. The duo famously put on a 148-run partnership to rescue UAE from 53-6 in a chase of 207 against Namibia.
Leg-spinner and product of the age-group system, Karthik Meiyappan has played a pivotal role in the UAE registering five consecutive T20I victories against Ireland, including two wins at the Qualifier.
On top of all of this, earlier this year, the UAE's Under-19 team were crowned the Plate Champions at the Under-19 World Cup in the West Indies, where they beat two full members – Ireland and hosts West Indies.
Ahmed Raza, who works closely with the Under-19s, including at the 2020 U-19 World Cup as a coach and consultant, is not the least bit surprised. He praises the culture of his team and the youngsters he's had the pleasure of working with.
'One dream, which becomes your obsession and you talk about it day in and day out for two and a half years. And then it happens. It takes time to sink in,' he says with a wide smile on his face.
'Whoever is writing the script, wrote it brilliantly! We've made it to the World Cup with an amazing group of people!'
At the World Cup, the UAE has been drawn in the same group as Namibia, Sri Lanka, and the runner-up from Qualifier B, set to be staged later this year. The top two from the group will advance to the Super 12 stage and book an automatic berth at the 2024 Men's T20 World Cup, which has been expanded to 20 teams.
As a unit, the UAE has not played in Australia since their 2015 World Cup campaign. Raza acknowledges that they will have to make a few adjustments in preparation for their first T20 World Cup appearance since 2014.
'In Asia, you can get away with ten overs of spin and ten overs of fast bowling, but in Australia, the key players will be fast bowling all-rounders who can contribute with bat and ball,' opines Raza.
'It's just about how well we prepare for those wickets. We've got Australian soil here as well, so whenever we train for T20s now, we'll be using Australian soil to train and get used to that extra bounce.'
With the ICC headquartered in Dubai, the UAE benefits from having a high standard of grounds and training facilities at its disposal. Moreover, as the last two and a half years have proved, they're equally fortunate to have Ahmed Raza as a leader.
What Raza and the UAE have achieved since late 2019 reads like the plot of an Oscar-worthy sports biopic.
And make no mistake; the inspirational Ahmed Raza has been a key protagonist in this epic resurgence.
---
If you're a fan of a more global and gender-inclusive sport, please do sign up for this e-mailer. And if you liked this piece, please consider sharing it!
You can also follow us on Twitter and Facebook :)