Discover more from All Over Cricket
Articles and insights for the global cricket fan by a diverse team of writers
Cricket in 2021: Rapid growth against a backdrop of callous leadership
Jay Dansinghani summarizes women's cricket and associate cricket in a year that both inspired us and let us down
Being a cricket fan this year has felt like having both a Nobel Peace Prize winner and a mass murderer in your family. Indeed, for every inspiring story, for every step towards a more global and inclusive sport, there has been an equally frustrating narrative of negligence and administrative apathy that has stifled progress.
So let's take a look at the good, the shocking, the downright disgraceful, and the encouraging stories of progress that 2021 will be known for.
The Hundred and WBBL
The inaugural game of The Hundred between the Oval Invincibles and the Manchester Originals was a last-over thriller, which set the tone for the rest of the tournament, and not just the women's competition. Attendance for that fixture peaked at 7395, which was viewed as a huge win for the women's game.
That, however, was just the beginning.
Four days later, 13,357 packed in to watch the Invincibles take on the London Spirit. A week later, 15,189 attended a game between the London Spirit and the Southern Brave. To cap it off, 17,116 fans witnessed the final between the Invincibles and the Southern Brave. By the end of the tournament, the average match day attendance at the women's competition stood at approximately 8,344.
The Hundred was an absolute game-changer for English women's cricket.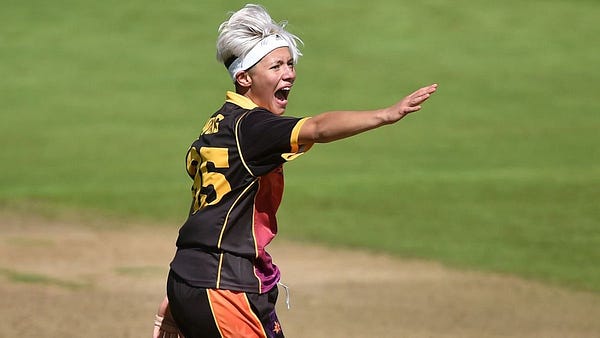 Prior to the competition, 41 female cricketers outside of the 16 England contracted players were on full-time domestic contracts. That number has now increased to 51.
Moreover, the success of The Hundred has forced a rethink about the gender pay gap between women and men's players in the Hundred. In the 2021 edition, the lowest-paid male cricketer was paid £25,000, while the highest-paid female cricketer was paid £24,000. Encouragingly, ECB Chief Executive Tom Harrison has claimed that the ECB is committed to narrowing that gap ahead of this year's edition.
Down in Australia, 15,511 spectators were at Optus Stadium to watch Perth Scorchers clinch the WBBL trophy in the final against Adelaide Strikers. This was a record for a standalone WBBL game in a season where every game was broadcast on TV for the first time in the competition's seven-year history. The average TV audience of 535,000 per game also made it the most-watched season ever.
Buoyed by this success, Alistair Dobson, the general manager of the Big Bash Leagues, has indicated that broadcasters are keen to move more games to primetime TV slots.
India, on the other hand, is somehow yet to introduce a full-fledged women's IPL in spite of the fact that their players have never been more in demand in overseas leagues. A record ten Indian players were signed by WBBL clubs this year with Harmanpreet Kaur finishing as the WBBL's player of the tournament.
There is more than enough depth for a Women's IPL, which would further deepen India's talent pools by bridging the gap between domestic and international cricket. Hopefully, 2022 is the year that the cash-rich BCCI sheds its apathy towards women's cricket and finally launches its own T20 league.
Thailand shafted
Thailand's rise to the World Cup was the enduring fairy tale of 2020.
2021 should have been a continuation of that fairy tale. In the lead up to the World Cup Qualifier, Thailand had scheduled no less than fifteen white ball fixtures against Qualifier hosts Zimbabwe and a South African Emerging Team. Given the inequities in grants given to associates compared to Full Members, this extensive preparation wasn't exactly cheap for Thailand. In the current TV rights cycle, Sri Lanka Cricket (SLC), for example, are awarded upwards of 15 million USD a year compared to just a few hundred thousand dollars for the Cricket Association of Thailand (CAT).
That Thailand is able to compete with full members in spite of a huge gulf in ICC grants is as much an indictment on the pitiful resources allocated to women's cricket in Sri Lanka as it is an endorsement of the priority given to the women's game by CAT.   
In the last few years, the Southeast Asians have beaten full members Bangladesh, Zimbabwe, Ireland, and, of course, Sri Lanka. In fact, after their victory over Bangladesh, they sat atop Group B of the Qualifier. Based on this evidence alone, Thailand and other associate teams should be provided with a regular fixture list against full member teams. 
Yet, Thailand did not even have the opportunity to earn an ODI ranking at the qualifier, where matches involving associate nations were not granted ODI status.
It wasn't supposed to be like this.
At the last minute, without putting out so much as a press release, the ICC made a U-turn on an earlier decision to accord status to all games played in the qualifier. USA Cricket's social media channels even congratulated their women's team on their first ODI appearance ahead of their opening game of the tournament.
At the end of the day, if a One-Day game is being played between international sides, it should be a One Day International.
It's simple logic really.
To add insult to injury, Thailand's status as an associate member is due to ICC membership being based primarily on development criteria for men's cricket.
Sadly, I can't think of any reasonable argument as to how this isn't gender discrimination.
As things stand, Thailand will neither be one of the three qualifying teams at the World Cup nor will they be part of the 10-team Women's Championship, which would have guaranteed them a regular fixture list against Full Members until 2025.
The ICC's clear dereliction of duty is a reminder that developing cricket nations will always have to swim against the tide of members-only exclusivity.
Thanks for reading All Over Cricket! Subscribe for more women's cricket and global cricket content sent to your inbox!
Rankings
In November 2021, the ICC announced that it would be reverting to a ranking-based qualification system for the expanded 14-team Men's World Cup in 2027. This effectively means that the 13-team Super League has been axed, as the highest-ranked full members will no longer have an incentive to play their lower-ranked counterparts or associate nations.
As the only associate nation in the Super League, the Netherlands is the hardest hit by this decision. Regardless of how they perform in the rest of their campaign, they will lose their regular ODI fixture list, which stands to see them play 24 ODIs against full members in the ongoing world cup cycle.  
After being spoiled by ODIs that actually carry some context, the everyday fan will have to go back to subsisting on a diet of meaningless bilateral contests that are really just glorified friendlies. And sure, every result will have an impact on the MRF rankings. But who in this world actually understands how this convoluted ranking system works?
Moreover, the traditional rankings system is open to manipulation by the very full members who supported it as the method of qualification over a meritocratic Super League structure.
Scotland and Namibia in Men's T20 World Cup
On the opening day of the Men's T20 World Cup, Scotland came back from 53/6 to defeat Bangladesh in a game highlighted by Chris Greaves' all-round brilliance.
As predicted by George Munsey in an exclusive interview with All Over Cricket, they would go on to win all three of their first round games en route to the Super 12 stage.
In spite of their aging squad, Scotland are likely to be among the next batch of full members, which would accelerate the growth of what is still a semi-professional sport in the country.
Namibia, the bookmaker's least favoured team in Group A were the other associate team to get into the Super 12s, registering impressive wins over Ireland and the Netherlands. They were led by the valiant, nine-fingered Gerhard Erasmus who had the luxury of calling upon T20 globetrotter, David Wiese, and left-arm spearhead Ruben Trumpelmann, arguably their find of the tournament.
Much like Ireland benefitted from their players being exposed to county cricket in the days before they were granted test status, so too Namibia's exposure to South African teams has helped their players get much-needed exposure over the years. In September, they defeated the Titans 3-1 in a T20 series that featured experienced South African internationals Dean Elgar, Theunis de Bruyn, and Aaron Phangiso among other cricketers capped at either the age group or senior levels for the Proteas.
If Namibia can find the funds to improve its facilities and to invest more in grassroots development, it could soon become one of the most competitive associate nations.
However, neither Scotland nor Namibia pushed their full member opponents in the Super 12 stage of the tournament. Outside of global tournaments, it is rare to see higher-ranked full members agreeing to play associate teams. The pandemic, however, widened the gulf between full members and associates even further with a reduction in overall fixtures for associates, who saw multiple Cricket World Cup League 2 series being postponed.
Heading into this year's World Cup, there is no timeline for when and how these fixtures will be accommodated, and there is no indication the gulf between the haves and have-nots will get any smaller.
Live Streaming
Five years ago, one of the most frustrating aspects of being an associate cricket fan was having to follow games via a live scorecard or crossing your fingers that Peter Della Penna was at the venue to provide his signature live tweets.
Thankfully, in the last few years, the ubiquity of live streaming has allowed us to witness Freddie Klokker's sweeps, Natthakan Chantham cover drives, and Bilal Khan's searing yorkers.
This year, to their credit, the ICC announced that all men's and women's qualification pathway events to global tournaments would be live-streamed on icc.tv.
Brazil, Argentina, and Bhutan's women's teams were just some of the sides making their first-ever appearance in an ICC qualification pathway tournament. It was great that fans in their home countries and around the world were able to see them in action. But there were also more experienced teams, like Hong Kong's women, who'd never played in front of cameras.
I was fortunate enough to be on commentary throughout the Women's T20 World Cup Asia Qualifier, including the 1000th Women's T20I played between Hong Kong and Nepal. The buzz across social media channels was something to behold. The Twitterverse, Facebook groups, my WhatsApp group chats were blowing up. And all over a regional qualifier.
While there were situations where streams were unstable, the launch of icc.tv was a huge step forward for a sport that has been historically poor at promoting it's high-stakes, high-octane qualification events. It meant a lot to the players and their families and was great for the visibility of the sport outside cricket's traditional strongholds.
Racism in Scottish Cricket
Rather tellingly, Azeem Rafiq's revelations about racism in Yorkshire cricket and English cricket did not come as a surprise to the UK's Asian community.
Make no mistake: Rafiq is a certified hero. His bravery has had a knock-on effect, encouraging several South Asian players across the UK to come forward with testimonies about how they were discriminated against because of the colour of their skin, their religion, or their cultural background.
Earlier this year, ex-Scotland cricketers Qasim Sheikh and Majid Haq alleged that they'd suffered discrimination throughout their playing careers. More worryingly, this wasn't the first time they'd spoken out about this.
When they did raise concerns with Cricket Scotland, they were ostracized and for all intents and purposes, their international careers were prematurely ended.
However, the winds are changing. Sportscotland, the national agency for sport in the country, has taken control of the investigation into institutional racism at Cricket Scotland, who had initially planned to conduct an internal inquiry. Sheikh and Haq have welcomed this independent review and Sheikh on multiple occasions has tweeted about the faith he has in Cricket Scotland President, Sue Strachan to drive forward the changes recommended by the review due to begin this month.
At the end of the day, cricket has to be a sport that is equally accessible for all to enjoy, regardless of race, religion, skin colour, gender, or sexual orientation.
Majid, Qasim and, Azeem have lost so much. They've suffered injustices they should never have had to suffer. It's taken a toll on their mental health. And yet, they're standing up and fighting. History will be forever grateful for their strength and will never forget their sacrifice.
Global tournaments in 2022
2022 promises to be an exciting year for the global cricket fan. Kicking things off in March is the Women's World Cup in New Zealand, a country that has managed to keep the pandemic in check. Expect attendance and TV viewership records to be broken once again as England look to defend their title.
With just over six months left until the Commonwealth Games, more than a million tickets have been sold across sporting fixtures with dozens of matches being sold out. The Games will be a massive shop window for women's cricket leading into another season of The Hundred. Expect more young English fans to witness the game in all its glory.
As reported by the South China Morning Post, next year's Fairbreak Global Invitational T20 is likely to be moved from Hong Kong to Dubai due to the city-state's draconian quarantine restrictions for inbound passengers. Nonetheless, the tournament comes on the back of an encouraging year for Asian Women's cricket, where Nepal, Bhutan, Kuwait, and Malaysia have all introduced full-time contracts for their female cricketers for the first time ever.
Bhutan were the darlings of November's T20 World Cup Asia Qualifier, impressing everyone with their electric fielding and nearly pulling off an upset against Malaysia. Promising Bhutanese left-armer Anju Gurung and Hong Kong's best cricketers will be lining up alongside associate stars such as Sterre Kalis and Roberta Moretti Avery, and blockbuster names like Sana Mir, Harmanpreet Kaur, Marizanne Kapp, and Shabnim Ismail at next year's invitational.
The tournament, organized in conjunction with Cricket Hong Kong, has the potential to raise the profile of the women's game outside cricket's historical strongholds while giving players the exposure necessary to take their games to the next level.
Of course, we can't forget about the Global Qualifiers for both the Men's and Women's T20 World Cups. Nepal's men will be heading into Global Qualifier A with player-board relations close to an all-time low. With the beloved Pubudu Dassanyake back as Head Coach, if they are able to select their best team, they will be among the favourites to qualify along with Ireland, the UAE, and Oman.
In Qualifier B, Singapore and Hong Kong's men's teams will be making a comeback to international cricket after a break of over two years. Needless to say, their task will be cut out against group favourites the Netherlands and Zimbabwe.
The Women's T20 World Cup Qualifier will see eight teams competing for two qualifying berths at the main event in 2023. Bangladesh won the 2019 Qualifier and come into this year's edition as hot favourites. Ireland, Zimbabwe, and Scotland (the latter coming off a come-from-behind victory over Ireland at the Europe Qualifier) will fancy their chances, while a youthful and disciplined UAE will be looking to spring an upset or two.
What about Thailand? Well in spite of cricket's custodians failing in their duty to the sport, in spite of the gross inequities in grants given to associates compared to full members, Thailand are hot favourites for next year's T20 World Cup.
Their story encapsulates everything that is beautiful and scary about the sport. And wouldn't it be poetic justice if they qualified for another global tournament?
---
If you're a fan of a more global and inclusive sport, please do sign up for this e-mailer. And if you liked this piece, please consider sharing it.
You can also follow us on Twitter and Facebook :)