Discover more from All Over Cricket
Articles and insights for the global cricket fan by a diverse team of writers
EXCLUSIVE Interview: Harry Tector on Playing with his Idols and Wanting to Score Big
Ireland's Harry Tector sits down with All Over Cricket for an Exclusive Chat
If you were in a bar on a balmy March evening in 2011, chances are you might have broken the sound barrier in celebrating a win that has become part of Irish cricketing folklore. As for kids, well, they were all Kevin O'Briens in their backyard the next day and for years to follow.
11 years old at the time, Harry Tector still remembers that day as if it happened last week.
"My parents gave me the day off school to watch the game because it was so rare at the time to watch Ireland play cricket on TV," recalls Tector in an exclusive chat with All Over Cricket.
"I had a football match that afternoon and it ended when Ireland needed 70-odd runs off the last ten overs. It really created a buzz around cricket in Ireland at the time, even small things like seeing cricket being reported on in the newspapers and on the TV."
Since that spectacle in Bangalore, cricket has become somewhat of a family affair in Ireland. For it's not just the Tector brothers (Harry, Tim, and Jack) who have taken to the game but also the McClintock brothers (William and Gary), the Tuckers (Fiachra and Lorcan), and the Delanys (Gareth and David); all of whom have represented Ireland either at the senior level or at an Under-19 World Cup in the past few years.
Harry, however, is the standout amongst all those names, having been earmarked as a future national skipper. The 21-year-old made his ODI debut in the first game of the Super League series against England last year in Southampton and shared a 50-run partnership with O'Brien as Ireland chased down a mammoth target of 329 in the third ODI. Tector had his arms around O'Brien as they both walked off the ground beaming, having pulled off just their side's second win against England.
"I think one of us said at the time in Southampton that we're getting pretty good at this now," Tector said. "We had done something similar against Afghanistan in a Super Over where he hit a last-ball six. Looking back, when my career is eventually done and to be walking off with arguably the greatest Irish cricketer in Kevin will be ingrained in my mind forever."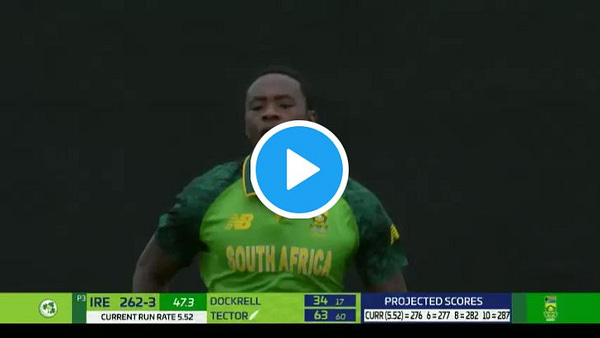 "It was 70-ish off 10 overs when I came in. I had got a duck in the first game, but I had scored 50-odd in the warm-up game against the England Lions, so I wasn't really worried. I was confident with where my game was at…..Kev [Kevin O'Brien] is just so calm, and he's been in that situation before so many times, so it was great to have him at the other end."
That Tector, who scored a 26-ball 29, held his own at a time when England was starting to put a leash on the scoring was down to the opportunities afforded to him from an early age and his experience of being in the Ireland senior and age-group setups since he was 16.
However, Tector's first brush with international cricket on a global stage was an eye-opener. In 2015, he was dropped for the U-19 World Cup Qualifiers in Malaysia. "My brother didn't even pick me for that one, so I was fuming there," admits Tector. Even when he was picked for the 2016 U19 World Cup in Bangladesh after Ireland qualified for the tournament, it was primarily as an off-spinner. For him, the World Cup was a reality check in terms of where he had to be with his cricket. By his own admission, he did not quite feel like he belonged.
The 2018 U19 World Cup in New Zealand marked a coming-of-age for Tector who thrived under the added pressure of captaincy. In addition to a hundred against Namibia and a half-century against the West Indies, he also finished as his side's leading wicket-taker while conceding less than four runs an over. Unsurprisingly, his returns left a lasting impression on Ireland's selectors. In the years to follow, he was a regular fixture in the Wolves squad even captaining them at the tender age of 18.
Back home, he piled on the runs for Northern Knights in Irish Inter-Provincial cricket, averaging north of 50 in List A cricket in both 2018 and 2019. On the back of a winless but rewarding Ireland Wolves tour to Sri Lanka, he made an immediate impact with a knock of 60 at No. 4 in just his second T20I appearance against the Netherlands.
Not for the first time, Tector pauses to reflect on the time when his maturity and game was still a work in progress.
"I think the first Irish squad I was in was when Ireland went to Oman and Dehradun in 2019. I didn't play a game but that was my first time around the squad and there were a lot of senior players on that team. It's amazing because you have worked so hard to reach there, but you sort of sit in the corner and see guys you have looked up to for so long."
"I still ask William Porterfield so many questions because he's one of the best cricket brains around. He's a great person to bounce ideas off of, and he's always keen to give some advice."
While Tector admits he is far from a finished product, there is a general acceptance in Irish cricketing circles that he is a technically correct batsman who can score quickly and has a wide array of shots in his repertoire.
As he speaks of his future goals, one senses a fast-growing sense of leadership and game awareness that belies his age. It is also fairly apparent in how he has embraced the challenge of captaining the Northern Knights in this season's Inter-Provincial Championship.
"The first time I captained Wolves was when I was 18. I still remember the morning of that match where I was giving a pep talk to the team and looking around, there was George Dockrell, Andy Balbirnie, and guys who would have had 100 or even 200 caps for Ireland. I was terrified, you know, like what was I supposed to say to these guys who had played more than me and were better players than me!
"Even this summer when we played Netherlands A, I was captaining the Wolves and William Porterfield was playing and I thought, 'Who am I to tell him what to do?' There were times I thought, 'Geez he's thinking about things I'm doing wrong' but he's just so generous with his time."
As he turns his focus to the upcoming T20 World Cup and the series against South Africa and Zimbabwe, he is fully aware of the areas in his game that need attention to reap long-term gains.
"In T20 cricket, more so than any other format, you're looking for a clarity of mind and you want to commit to what you're doing fully because there's no time for indecision or getting in. You've just got to trust that the way you're doing it is right — that comes from clarity of mind, your preparation and practice, your plans to counter the opposition whereas in ODI cricket, I bat at no. 4."
"My challenge thus far in my short ODI career has been the fact that I've got 20-30 runs and gotten out cheaply. That's when you notice that the best players kick on to make those big scores and that's what I want to do too. That's where I have to strive to do better against the best bowlers in the world."
"20s and 30s at No. 4 don't win you many games. You want your top order to score as many runs as they can. That's my goal for the upcoming series against South Africa: to try and put in big performances to help win games of cricket."
With Ireland's batting order relying heavily on the duo of Paul Stirling and Andrew Balbirnie in recent times, Tector's career trajectory will be a key factor in his team's fortunes in both the Super League and the next two T20 World Cups. Although, if his 68-ball 79 against South Africa on Tuesday is anything to go by, Tector has every chance of turning into the match-winner he aspires to be.
Header Image: Cricket Ireland Twitter
—————
We hope you've enjoyed this piece. If you're a fan of a more global and gender-inclusive sport, please do sign up for this e-mailer, and if you'd like to, share this piece too.
Your interaction will help us grow especially with newer readers, so leave a comment. We appreciate all responses :)
Lastly, you can find us on Twitter and Facebook