Discover more from All Over Cricket
Articles and insights for the global cricket fan by a diverse team of writers
EXCLUSIVE Interview: Simi Singh on How He's Upped His Game for Ireland
Ireland All-Rounder Simi Singh Sits Down with All Over Cricket for an Exclusive Chat
It's not often that you see a part-time spinner as early as in the 19th over but South Africa had resorted to the floaty off-breaks of Heinrich Klaassen on a balmy evening in Malahide in the third ODI last month. Fortunately for them, it represented a position of strength rather than a desperate attempt to wrestle back control.
With Ireland at 92/6, chasing a seemingly improbable target of 347, there wasn't much life left in the game and the hosts' resounding win in the second ODI was starting to look like a one-off.
For a brief while, Curtis Campher and Simi Singh threatened to turn the tide with a 104-run partnership but to go at 11.61 an over was a huge ask. Be that as it may, Singh still had it in him for one last hurrah.
"I wasn't thinking about the hundred, to be honest," he admits. The premise hardly afforded him an opportunity to. Nine down at 229 with Tabraiz Shamsi and Andile Phehlukwayo sticking to their lengths, Singh, on 68, not only needed to accelerate but also needed support from Craig Young.
"I just asked Craig to rotate the strike and to try and get as many runs as we could. Luckily, he batted really well. He blocked out the good balls and took singles. I kept taking on the bowlers. I got to 88 or so and thought I could actually get to 100 here. I hit a couple of boundaries and there it was!"
Singh couldn't have asked for a better summer. In January against UAE, he picked up his maiden five-wicket haul, conceding just 10 runs in the process, while also scoring his maiden half-century. The tour also marked his 50th International appearance. All these recent milestones stand in stark contrast to his first few years in Irish colors.  
Since his ODI debut in 2017, his role has largely been with the ball, bowling serviceable off-breaks. With the bat, barring a 29-ball 57 on his T20I debut, his top score had been 45 in 44 appearances across formats.
In many ways, Singh's career trajectory has mirrored his early life in Ireland navigating through life and cricket as a fresh-faced teenager having moved over from Punjab at the tender age of 16.
"It was really tough at the start because of everything being foreign to me. New culture, new conditions cricket-wise. I was quite young at the time so naturally, everything got difficult for me at the start and slowly things fell in place and got so much easier with time."
"It's been a really beneficial year for me. Playing that amount of games, I'm starting to get comfortable on the International stage. Mentally it has helped me a lot and that can be seen in my performances too. With my batting, I have simplified it. Previously, I was trying too many things at the start of my career and I'm glad I'm starting to see the results now."
A noticeable aspect of Singh's bowling over the years has been his awareness of the batter's intentions and the ability to make late adjustments to his pace, line, and length. The idea of adding wrist spin and a well-disguised arm-ball was conceived four years ago in the latter stages of Rob Cassell's tenure as Ireland's assistant head coach.
"It's hard to switch from off-spin to wrist spin. It took me two years to bowl leg spin. I practiced 4-5 hours every day. After nearly two years, the first time I bowled a leg spinner in a game was against the West Indies when I got Kieron Pollard out. That gave me a lot of confidence.
"Mainly I have used it in T20s, but I'm still developing my googly and carrom ball as well, so I'm hoping to bring it out sooner."
In terms of his development, the variations were perfected over many trials but mainly self-taught having watched YouTube videos of different spinners of a similar ilk.
Despite the lack of specialist spin bowling coaches, he has had a sounding board to fall back on in the form of bowling coaches Stuart Barnes and Rob Cassell, the latter recently took up coaching duties with Rajasthan Royals. Singh is quick to add: "At the end of the day, you have to do it yourself in the game."
He also gives a lot of credit to captain Andrew Balbirnie, whose backing, understanding, and utility of Singh's skills have gone a long way in his development.
"The change in captaincy, having Andrew Balbirnie, has seen a change in my cricket as well. He's given me the ball in tough situations and has backed me which has been really great for me. Once you get that confidence from your bowling, you do well and that reflects in your batting too. He's an open guy and it's the same with Graham Ford too. They have given me the role I have wanted."
While he's often bowled in tandem with Andy McBrine and George Dockrell in ODIs, the rise of wrist spinners Gareth Delany and Ben White has added a point of difference to the Irish attack. Singh and White speak regularly about their art and it is likely they may hunt in a pair at the Men's T20 World Cup in October.
"I have a lot of conversations with Ben White. He just loves bowling all the time. A lot of young spinners are coming up which is great for Irish cricket because we play a lot of cricket away from home in the subcontinent."
Ireland are grouped with Sri Lanka, the Netherlands, and Namibia in Group A of the first round in the upcoming T20 World Cup. Given their recent wins over England, South Africa, and the West Indies in white ball cricket, Ireland are strong contenders to go through to the Super 12 stage. The ongoing series against Zimbabwe is an opportunity for them to fine-tune their plans and combinations.

🚨 Harry Tector EXCLUSIVE!! 👉
bit.ly/3z0gIV2
🗣️
@harry_tector
opens up about: ☘️ Being dropped from the U19s in 2015 ☘️ Captaining Ireland at 2018 U19 WC ☘️ Breaking into senior team ✍️
@malhar_hathi
Thanks for setting this up
@Stuff_by_Craig
#IREvSA
#BackingGreen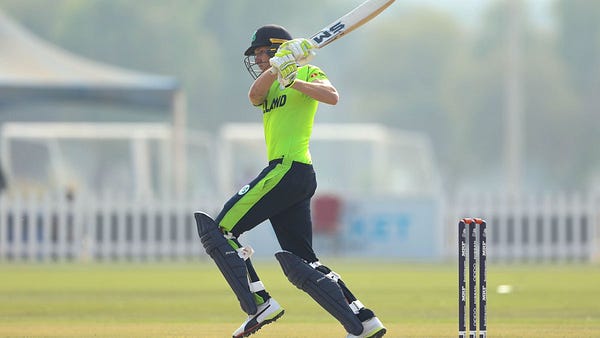 "We obviously don't have the big superstar players like some of the other teams might have in West Indies, for example," said the 34-year-old Singh. "The way we play our cricket, our focus is on the things we can control. In the field, we fight for every run and with the bat, in the middle, running between the wickets. I think that's where we can be better than the other teams. There have been additions of some new guys, big hitters of the ball, some of them haven't got an opportunity yet. We obviously want to play positive cricket and put pressure on the bowlers in the powerplay and the batters with the new ball."
"Some of our batters are very sensible players. The likes of Andy Balbirnie or Harry Tector can anchor an innings really well, so we have a really good mixture of big hitters and sound, technical batters. Same with bowling: We have a good pace attack. We have a left-arm seamer, wrist spin, left-arm spin, so we have our bases covered."
With Ireland's World Cup campaign kicking off in less than two months from now, only time will tell whether Singh's optimism is justified. One thing is for sure: Ireland's ability to restrict teams to manageable totals will rest heavily on the ever-improving, understatedly consistent Simi Singh.
Header Image: Cricket Ireland Twitter
—————
If you're a fan of a more global and gender-inclusive sport, please do sign up for this e-mailer. And if you liked this piece, please consider sharing it.
Your interaction will help us grow especially with newer readers, so leave a comment. We appreciate all responses :)
Lastly, you can find us on Twitter and Facebook