Discover more from All Over Cricket
Articles and insights for the global cricket fan by a diverse team of writers
From Cape Town to Seattle: The Shadley van Schalkwyk Story
The Seattle Thunderbolts and former South Africa Under-19 all-rounder talks about his career in South Africa and ambitions to play for the USA and in the CPL
Shadley van Schalkwyk is the ultimate journeyman of South African Cricket. After twelve years in the Rainbow Nation, he is in his second season of Minor League Cricket (MiLC) with the Seattle Thunderbolts. Throughout his time in the United States, he has been incisive with the new ball, regularly finding movement in the air and off the deck.
He finished the 2021 MiLC season with 20 wickets at an economy rate of 4.8, which was the best economy rate for anyone to have bowled at least 15 overs in the tournament. His returns this season have been modest, yet respectable.
Yet, over the last few weeks, he has recaptured his form from season one. Two weeks ago, he took 3 wickets in the powerplay against Golden State Grizzlies to help bowl them out for an easily chaseable 122. A few days before that, he smashed 57 off 32 against the San Deigo Surf Riders, walking in at 26 for 3 in an ultimately successful chase of 184. Most recently, he struck 38 off 15, including 4 maximums in a win over the Dallas Mustangs in the Pacific Conference Semi-final on Sunday.
van Schalkwyk's success won't come as a surprise to followers of South African domestic cricket. While he never kicked on to play for South Africa, he's racked up close to 500 wickets and 4000 runs across formats in his career.
Make no mistake, Shadley van Schalkwyk is the archetype of a domestic stalwart.
He sat down with All Over Cricket to talk about his cricketing journey from being a schoolboy in South Africa to a match-winner in the USA.
*****
'In my early years I always had an interest in sport of all kinds and I always believed I was going to be a sportsman of some kind,' recalls van Schalkwyk.
'I started cricket when I was very young and I remember going to what was then Kenilworth Cricket Club [now Western Province Cricket Club] with my dad on weekends to watch cricket, so the bug bit me from an early age.'
While a young Shadley was passionate about the game, he's quick to admit that it took him a while to find his feet on the cricket field.

'Although I did make the U14-A side at Wynberg, I made four ducks in a row so wasn't much good. It wasn't until I was about 17 that I thought I could make a job of it.'
Shadley admits that the desire to improve as a player was partly driven by his less-than-ideal academic performances. He recalls how the Principal at Wynberg High School saw him in his office on a regular basis. Yet, Shadley can't speak highly enough of his time at the renowned school, which was also the alma mater of Jacques Kallis.
'I hated the first week there so much I phoned home one day from the school to ask if I could leave and my mom said, "You weren't accepted by any other schools, so you aren't leaving".'
'However, after that first week, I realized that the school was for me. More than anything because they allowed me to be the person I am rather than boxing me into being someone or something they wanted me to become.'
A year after graduating from Wynberg, the all-rounder made the South Africa Under-19 side while he was in the Western Province Academy. While he was elated at the opportunity of wearing national colours, he was soon excluded from the 2009 U-19 World Cup squad on a count of him missing the qualification period by three weeks.
Thanks for reading All Over Cricket! Want more women's cricket and associate cricket stories sent hot and fresh to your inbox? Subscribe below!
He signed his first professional contract with the Eagles in the following season but was not retained at the end of his rookie season. He considered quitting the game altogether, but his parents and coaches convinced him to persist with his dream.
'I'm forever grateful to the coach and my parents for making sure I did stay. From there though I had a successful season in the semi-pro setup and regained my professional contract shortly after and didn't look back.'
As I sit and listen to his story, it is clear that he is proud of his career in South Africa.
'I even received a two-year contract extension from the Knights before I decided to leave South Africa, so I do feel as though I have given my all to South African cricket,' he adds.
Does he have any regrets about his time in South Africa?
'Although I was probably not quick enough or good enough [to play test cricket], I did think I might have got a few South Africa "A" matches at some point or been able to offer something in white ball cricket. I accept the Proteas squad at the time was very strong but I also think maybe the communication from CSA to our coaches at domestic level could have been better.
There was one time when I asked my franchise coach what I must average, and what must I score when batting but nothing came from CSA and I am a little disappointed about that. I hold no real grudges against anyone. I just wish the communication was better.'
The all-rounder tells me that he was really 'comfortable' in his last few seasons in South Africa and highlights that as a reason for wanting to move.
'I had a safe job, I was earning decent money, and I had a good circle of friends. There was one evening when I was sitting at home in my garden and I said to myself, "I don't want things to be this easy", so getting outside of this comfort zone was a priority for me.'
Yet, he admits that financial security and the possibility of playing international cricket were his other push factors.
'I knew I wasn't going to play for South Africa and I understood that with the quality of individuals above me at the time. The move to the USA created a job where international cricket was a possibility, if admittedly maybe a little unlikely.
So how did his journey to the USA begin?
'My agent Lee Coller was instrumental as he made me aware of this opportunity in the USA with the launching of the Minor League. That along with the fact that Nosthush Kenjige, who plays for the USA was training with us [Knights] in South Africa during our summer. I asked him about life over there and whether there would be a space for me to come over. He told me to email him and he would get back to me when he had spoken to USA Cricket.
Major League Cricket offered me a three-year contract with an opportunity to do coaching at the same time.  This was very important to me, as I can't play the game forever, so coaching going forward is very important to me.'

🚨 Harry Tector EXCLUSIVE!! 👉
bit.ly/3z0gIV2
🗣️
@harry_tector
opens up about: ☘️ Being dropped from the U19s in 2015 ☘️ Captaining Ireland at 2018 U19 WC ☘️ Breaking into senior team ✍️
@malhar_hathi
Thanks for setting this up
@Stuff_by_Craig
#IREvSA
#BackingGreen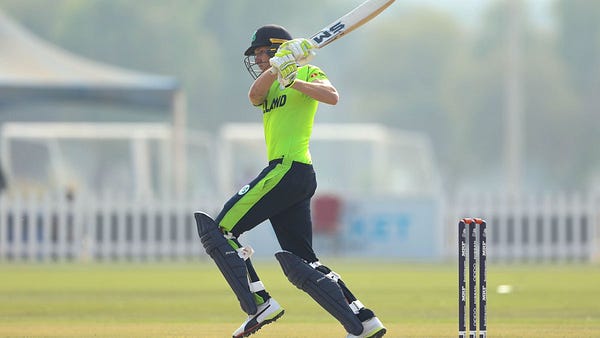 Upon arriving in America, van Schalkwyk had to go through a period of adjustment.
'Coming to a new country without my wife at the time was the real challenge. In cricket terms, the conditions when I arrived were not great. They only had one indoor center in Seattle, where I lived. But I was ok with that. It was not like I did not know this was the case, so it wasn't much of a surprise. It was the same on the field, as they didn't have a turf pitch, but again, I grew up in South Africa playing on artificial surfaces, so that was not difficult to adjust to.'
Thankfully, Shadley found a T20 competition to play in soon after his move across continents.
'I played in the Mock Minor League Championships in 2020 and really enjoyed my time playing for the Silicon Valley Strikers.'
In spite of a three-month break from cricket training and game time at the onset of the Covid-19 pandemic, the former South Africa Under-19 all-rounder is settled and admittedly happy in his new home.
'I am now based in Seattle and I love it. It reminds me so much of Cape Town, with the mountains, hiking trails, and overall outdoor lifestyle. Life is good here. We are very happy where we are now.'
When talking about playing cricket in the USA, he's all praise about the competition and the players he has played with or against.
'I have played against more international cricketers here than at any time in South Africa and that is not just in the Minor League Championship. It might be hard to judge things like pace and overall standard from the live stream on your laptop but there is real talent over here.
For guys that have played International or A cricket from India, Sri Lanka, West Indies, and New Zealand, there has to be something happening here that is attracting them. You can quote me on this that the age group cricketers from Under-13 to Under-15 are more talented than the guys in South Africa.'
On his plans for the future, he is hopeful of playing for the USA and potentially getting picked to play in the CPL.
'If I control my processes and do the right things, I certainly wouldn't say no [to playing for the USA] but I am living in the moment for now and not looking beyond that.'
He adds, 'We all know that living in the USA means we are closer to something like the CPL. Several West Indies players are in the Minor League, so if the offer came from one of the teams to play in the competition I would definitely do it. Playing just the T20 format over here does help as my focus is only on one format.'
It is clear to see that Shadley Van Schalkwyk is loving his time in the USA.
And if he continues to deliver on the field, it is possible he will get a long-awaited international cap when he qualifies for the USA at the end of 2023. That, arguably, would be a just reward for a professional with more than a decade worth of consistency on his resume.
Like what you read? Subscribe to All Over Cricket for more stories on women's cricket and associate cricket!
You can also follow us on Twitter, where we often live tweet during big games and tournaments!