Discover more from All Over Cricket
Articles and insights for the global cricket fan by a diverse team of writers
George Munsey: We truly believe we're going to go 3 from 3 | EXCLUSIVE | Scotland T20 WC Prep
The Scotland left-hander wants more games against Full Members
Whether he's muscling seamers into the leg side or reverse sweeping spinners into oblivion, George Munsey has built a reputation as one of the most dangerous batters in associate cricket. When he sat down with All Over Cricket for an exclusive chat ahead of Scotland's Men's T20 World Cup campaign, which kicks off on Sunday against Bangladesh, his burly frame barely fit into portrait mode.
"Something I enjoy away from the game is lifting weights and playing golf so that keeps my swing in check and it keeps me strong…I've got a good network of friends back home who also like to lift weights and enjoy the gym," says the Scottish opener, who is noticeably more muscular than he was at the start of his career.
All that extra time at the gym has paid dividends for the left-hander, especially in the lead-up to the World Cup, where he's registered three half centuries in the space of five warm-up fixtures. The first of these half centuries was a brutal 67 off 25 against Ireland, which featured five maximums and seven boundaries.
What's also helped Munsey is the sheer volume of cricket Scotland has enjoyed over the last months. Prior to the warm-ups, they hosted a T20I tri-series against Zimbabwe and flew to Oman for a Cricket World Cup League 2 tri-series, which featured both the hosts and PNG. Munsey notched up a half-century in the final T20I against Zimbabwe before scoring another half-century batting the middle order — his regular position in ODI cricket — against Oman.
His form was even more impressive in County Cricket. He topped the run charts for Kent with a century and two half-centuries in five One Day Cup games.  
"A better build-up into these matches led to better performances on my end," admits Munsey referring to a three-game stint for Hampshire at last year's T20 Blast, where he struggled before an injury prior to his fourth game sidelined him from the rest of the season. 
The Scottish southpaw's form has mirrored the national team's impressive run in the warm-ups, where they've won four out of five games. Despite this, Munsey is wary of the threats posed by Scotland's Group A opponents. When asked about Papua New Guinea, he was all praise for skipper Assad Vala, who was his teammate at North Canberra Gungahlin in ACT Premier Grade Cricket in 2014/2015.
"He's a lovely human, but he's [also] a very good cricketer. He's extremely dangerous, [PNG] have got an extremely dangerous batting lineup, and they love T20 cricket."  
While Oman's form in the shortest format has been patchy, including a loss to Qatar at the Asia Cup Western Region Qualifier last year, Munsey recognizes that they're an experienced and settled unit who will be relishing their home ground advantage.
For now though, his sights are firmly set on Scotland's opening fixture against Full Members Bangladesh.
"I truly believe we've got the skills to take down [not just] Bangladesh but all the full members," says a confident Munsey whose words are about to get even bolder.
"We're very confident in our team and our skills and we truly believe that we're going to go three from three," predicts Munsey.
This self-assurance within Munsey and the Scottish unit will not come as a surprise to anyone who witnessed their upset over England prior to the 2019 World Cup.
"That's a day that will live in our memory for a long time...there was that much belief in the squad that we will always challenge full members…It was a packed out crowd on a sunny day at the Grange in Scotland. It was pretty magical!" Munsey reminisces as a grin breaks out on his usually stoic face.
The victory against England, dubbed the greatest day in Scottish cricket history, was a catharsis of sorts after Scotland's heartbreak of narrowly missing out on qualification for the 10-team 2019 Men's Cricket World Cup.
Sadly, and infamously, the absence of the Decision Review System throughout the Qualifier in 2018 would go on to cost Scotland in their final game against the West Indies, when Berrington was adjudged LBW to an Ashley Nurse delivery sliding down leg. Rain would intervene soon after, leaving Scotland an agonizing five runs short of the DLS target.  
"The West Indies game was hard to take…but at the same time we still had that game in our hands and we didn't quite take it," admits Munsey.
"I look at that trip as a massive positive but also, after not qualifying, a massive learning curve and something the team has gotten a lot better for, and it's put us in a really good spot as a unit."
Either side of the pandemic, Scotland has been the most consistent team in men's associate cricket along with the Netherlands. Yet, both Munsey and Scotland are desperate for a regular fixture list against Full Members. The left-hander wants Scotland to top the 7-team Cricket World Cup League 2. If they manage to do this and go on to finish higher than the 13th placed Super League team in the 2023 World Cup Qualifier, they'll gain promotion to the Super League.
However, in the more immediate term, progressing to the Super 12 stage would grant Scotland fixtures against the likes of India, Pakistan, and New Zealand. As Scotland's best T20 batter, if George Munsey continues his belligerent form, it could go some way towards healing the scars of 2018.
And perhaps scripting the fairy tale of 2021.

🚨 Harry Tector EXCLUSIVE!! 👉
bit.ly/3z0gIV2
🗣️
@harry_tector
opens up about: ☘️ Being dropped from the U19s in 2015 ☘️ Captaining Ireland at 2018 U19 WC ☘️ Breaking into senior team ✍️
@malhar_hathi
Thanks for setting this up
@Stuff_by_Craig
#IREvSA
#BackingGreen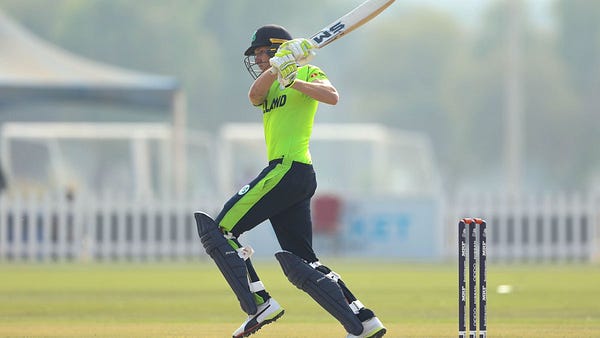 ---
If you're a fan of a more global and gender-inclusive sport, please do sign up for this e-mailer. And if you liked this piece, please consider sharing it.
Your interaction will help us grow especially with newer readers, so leave a comment. We appreciate all responses :)
Lastly, you can follow us on Twitter and Facebook