Discover more from All Over Cricket
Articles and insights for the global cricket fan by a diverse team of writers
How Hong Kong qualified and how the UAE botched it
Jay does a team-by-team wrap of the 2022 Men's Asia Cup Qualifier
It's amazing how much drama the cricketing Gods had planned during the six games of the recently concluded Men's Asia Cup Qualifier. We saw two last-over thrillers, an upset for the ages, and plenty of net run rate drama.
Let's take a look at how Hong Kong, the UAE, Kuwait, and Singapore fared over the course of the tournament.
Undefeated Hong Kong
834 days: That's how long Hong Kong's men's team was absent from international cricket.
Throughout the pandemic, Hong Kong's government has imposed some of the world's most draconian quarantine restrictions, which up until recently included a 21-day hotel isolation period for incoming travellers.

🚨 AHMED RAZA EXCLUSIVE 🚨 ➡️➡️ READ:
bit.ly/3vS5Et5
🇦🇪 Since a scandal-hit 2019, UAE has rebuilt around a younger side & talismanic skipper Ahmed Raza, qualifying for Men's
#T20WorldCup
But in a different world, Raza may have never played international cricket...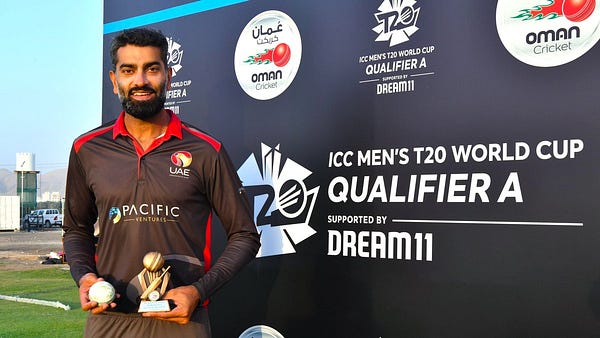 After all of the cricket they'd missed, Hong Kong had to make up for lost time. As a result, they've been on the road for two and half months, playing high-stakes pathway tournaments one after the other. At the end of the Asia Cup, many members of Hong Kong's squad will have spent three months on the road with three members of the squad even missing the birth of their respective children.
Hong Kong surprised a few onlookers by winning four out of their five games during the second leg of Challenge League B in Uganda. Yet, unsurprisingly, the cocktail of extensive time on the road, injuries, and illnesses caught up with them.
As things turned out, Hong Kong won just two of their five games at the T20 World Cup Qualifier B. Following this, they lost their last three games of the final leg of Challenge League B to narrowly miss out on regaining ODI status.
In spite of the UAE's tactical own goals, Hong Kong demonstrated admirable resilience, going undefeated at the Qualifier to book their ticket to play India and Pakistan in the UAE.
Yasim Murtaza and Ehsan Khan were Hong Kong's standout players, finishing atop the run charts and wicket-taking charts, respectively.
After a sluggish batting powerplay against Singapore, Murtaza's promotion to open the batting was questioned by myself as well as the on-air commentators. However, to his immense credit, he bounced back against Kuwait and the UAE to emerge as the dominant member of an opening partnership that included skipper Nizakat Khan.
Nizakat, for his part, is arguably in the form of his life. He recorded his first List A century against Jersey last month and three out of his five T20I career half-centuries have come in his last seven innings. He played maturely during the Qualifier, allowing Murtaza to be the dominant partner, which makes you wonder whether we're seeing the evolution of one of the most gifted batters to emerge out of the city-state.
A cornerstone of Hong Kong's undefeated campaign was their trio of frontline spinners.
Left-arm spinner Murtaza did not concede a single boundary in Hong Kong's last two games. With his fingers taped up throughout the tournament, off-spinner Ehsan Khan wasn't able to put too many revolutions on the ball, yet he was able to deceive batters with flight, drift, and changes in pace. Leg-spinner Mohammad Ghazanfar complemented the experienced spin duo with an element of mystery, specifically a googly that few if any batters were able to pick throughout the tournament.
Together, the trio combined to take 15 wickets, while conceding just 5.78 runs per over.
With games against Pakistan and India on the horizon in the main tournament, Hong Kong will have to tighten up their death bowling. After all, they did concede 74 runs in the last five overs against Kuwait.
Their new ball bowling is also a bit of a concern with Ayush Shukla still new to international cricket. Shukla, however, arguably has a higher ceiling than any other Hong Kong cricketer. In their final game against the UAE, his wickets of Muhammad Waseem and Vriitya Aravind set the tone for Hong Kong, who'd be well-served to prefer him over Haroon Arshad with the new ball.  
Hong Kong does have a settled top four, yet the rest of their batting order seems to be playing a game of musical chairs with the likes of Zeeshan Ali, Scott McKechnie, Aizaz Khan, and Haroon Arshad switching positions nearly every game.
My biggest piece of advice for Hong Kong would be to treat Arshad as a proper batter instead of a 'go-from-ball-one' finisher. His career strike rate of 138 is the highest for any Hong Konger with at least 100 runs in Men's T20Is. His average of 24.4 is second only to Babar Hayat.
If Hong Kong would like to push full member opposition, as they've done on numerous occasions in the past, they need more defined roles for the rest of their batting line-up.
UAE implode
UAE owes a debt of gratitude to former captain Ahmed Raza for leading them out of a scandal-hit 2019 and into this year's T20 World Cup. Moreover, as a player, he was instrumental in them realizing their World Cup dream by taking a five-wicket haul against Nepal in the 2022 Men's T20 World Cup Qualifier A semi-final, which propelled the Emiratis into the big dance.
Along with Rohan Mustafa, he still has a lot to offer UAE cricket. Why the UAE would choose to make wholesale changes to the core group of players that propelled them to the T20 World Cup Qualifier A trophy just a few months ago is a mystery to anyone who's followed them over the years.
That they would ignore key matchups during seemingly impulsive team selections is even harder to fathom. Mustafa is still the best off-spinner in the UAE. Against a Hong Kong top four comprising left-handers Yasim Murtaza and Kinchit Shah, he could have made a difference.
With the bat, he could have countered the threat of Muhammad Ghazanfar and Murtaza, who'd be spinning the ball into him.
How the UAE sacked Raza in favour of a player who was not deemed good enough to be included in the squad for the qualifier in February is beyond the understanding of any reasonable onlooker.
The UAE's Asia Cup Qualifier campaign was nothing short of shambolic. They shot themselves in the foot by side-lining one of the main architects of their fairy tale resurgence.
Kuwait's audacity
Throughout the tournament, Kuwait's entire batting line-up just kept going for it. In their historic win over UAE, where they successfully chased down a target of 174, their top score was just 34 from Ravija Sandaruwan.
In spite of this, they seemed to have a never-ending list of batters who could hit the big shots. 10 out of 11 batters in that game managed to find the fence with five of them clearing the ropes at least once.
In their next game against Hong Kong, they clobbered 74 in the last five overs of their innings to finish on 151.
Edson Silva scored a gravity-defying 56 off 31 in that game to go with his player-of-the-match performance against the UAE. In the same game, Sayed Monib walked in at number ten and walloped two sixes off the last two balls, which was a major factor in keeping Hong Kong's net run rate below the UAE's.
In their next game against Singapore, they chased a target of 105 inside 8 overs, striking ten sixes in the space of 47 balls.
Make no mistake: Kuwait was the most entertaining team in the tournament. They're also the best advertisement for how competitive the Asian region is and why the Asia Cup needs to expand.
Young Singapore and Salman Butt
2019 was one heck of a year for Singapore. They beat Nepal, Canada, Zimbabwe, and Scotland in the space of three and a half months.
Tim David played a key role in three out of those four wins. Since then, he's become one of the hottest properties on the franchise circuit and it's just a matter of time before he switches his allegiances to Australia. His absence is something Singapore will have to come to terms with.
A chronic issue for them, however, is that a whole host of players are often missing due to work commitments, school, or mandatory armed forces service. It is rare that Singapore can ever put its best eleven on the park.
That they were able to remain competitive at the Qualifier in spite of these constraints is largely down to their bowlers. Three out of the top ten wicket-takers during the Qualifiers were Singaporean. The only other team to achieve this was Hong Kong.
Vinoth Bhaskaran, who took six wickets at the Qualifier, has traditionally been a powerplay specialist. His control with the new ball has certainly not evaded him, but he is also putting more revolutions on the ball and is more adept at deceiving the batters in flight.
Teenage off-spinner Akshay Puri picked up four wickets in Oman and has been a constant threat to opposition teams in his rookie year for the national team. Janak Prakash looks quicker and more accurate than ever before and is being given more responsibility with the bat, coming in at four throughout the tournament.
In spite of issues with player availability, Singapore keeps producing homegrown youngsters. Adwitya Bhargava looked good in the two overs he bowled in the tournament, picking up the wicket of Chirag Suri with a full inswinger. He too is blessed with pace and it will be interesting to track his development over the years.
I wish my wrap of Singapore's tournament ended right here.
But if there was one enduring image of their campaign, it would have to be the presence of Salman Butt in their dugout as the 'Consulting Head Coach.'
Salman Butt should not be allowed anywhere near an officially sanctioned cricket event let alone around a young squad.
As a human being, he deserves a second chance. But that second chance should not come in cricket. After taking three long years to publicly apologize for his leading role in the spot-fixing scam, he has lost the right to be involved in the sport.
As a follower of associate cricket, few teams entertained me more than Singapore did in 2019. It, therefore, pains me that the biggest story of their campaign isn't the continued improvement of their next generation of talent, but the reintegration of an unremorseful pantomime villain into the sport.
---
Like what you read? Subscribe to All Over Cricket for more stories on women's cricket and associate cricket!
You can also follow us on Twitter, where we often live tweet during big games and tournaments!