Discover more from All Over Cricket
Articles and insights for the global cricket fan by a diverse team of writers
India Must Back Resurgent Rodrigues
She dominated The Hundred, and she's been signed by the Renegades. It's time India started backing Jemi, argues Jay Dansinghani
24th July 2021: Without losing her shape, Jemimah Rodrigues danced down the track and drove Bryony Smith against the spin over long off for six.
She had no right to do this.
Since the start of the year, she'd been shuffled in and out of India's line-up across formats. Since her last half-century for India in November 2019, she was averaging 14.7 in 18 matches across formats.
To complicate things, Northern Superchargers were 25/4 against the Welsh Fire in their first game of the Hundred. With skipper Lauren Winfield-Hill and bestie Laura Wolvaardt back in the hutch, their predicted win percentage was hovering around 10%.
45 minutes later — after a Rodrigues master class that featured more lofted drives, classical cover drives both with and against the spin, full-blooded cuts behind point, and deft touches to the third man fence off seamers and spinners alike — the Northern Superchargers had chased down 131 with 15 balls to spare. 21-year-old Rodrigues finished on 92* (43), which is almost unanimously regarded as the innings of the tournament.
A stunning season
Her unbeaten 92 was no flash in the pan. Rodrigues would go on to register another two half-centuries in The Hundred. The Indian international was arguably the best batter in the women's competition, finishing as the second-highest run-scorer just 10 runs behind Dane van Niekerk who played 3 more innings. She also had the second-highest SR (150.9) of any batter with over 125 runs.  
If we dig beyond the raw stats, it's clear that Rodrigues all-round batting was unmatched by anyone else in The Hundred. Throughout the tournament, she found the boundary regularly while eating up very few dots.
If we plot the boundary percentages of the tournament's top batters against their dot ball percentages, we can see that Jemi is one of only four players in the top left quadrant.
Her boundary percentage of 25.5% was the highest among all batters with at least 125 runs. Remarkably, her dot ball percentage was only 33.33%, which puts her fourth on the list.
These numbers explain why she was a beast in the middle phase of the innings, where she struck at 174.4 between balls 26 and 75. Of batters with at least 50 runs in that phase, only Amy Jones struck higher at 179. The Phoenix skipper, however, didn't register a single half-century throughout the tournament.
Ignored by India
With her dominance at the crease and her infectious aura off the field, it's hard to imagine The Hundred without Jemimah Rodrigues. Her emphatic return to form was truly remarkable, yet not entirely surprising for anyone who followed the 2019 Kia Super League.
Turning out for the Yorkshire Diamonds, Rodrigues amassed 400 runs in 10 innings, including a 51-ball century against the Southern Vipers, to finish second on the run charts.
T20 is clearly her strongest format, and she was prolific in England before The Hundred's inaugural season. It is, therefore, surprising that she carried the drinks throughout the T20Is against England that preceded The Hundred.
It's even harder to fathom why, on the back of a dominant showing for the Superchargers, she didn't walk straight back into India's starting XI for the ODI leg of the multi-format series against Australia.
When in full flow, Rodrigues is hard to contain in the middle overs. India may have benefitted from her presence in each of the three ODIs against Australia.
In the first ODI, after the fall of Smriti Mandhana's wicket in the 6th over, India scored a mere 91 runs in the next 152 balls. Mithali Raj and Deepti Sharma could neither find the boundary nor regularly rotate the strike. 
In the second ODI, the score was 74/1 in 11.1 overs after Shafali was bowled trying to cut a Sophie Molineux arm ball. Mithali Raj walked in ahead of Yastika Bhatia to maintain a left-right combination with Smiriti Mandhana at the other end. However, a 14-run partnership in 5.2 overs allowed Australia back into the contest and was a key factor in them restricting India to 274, a target they famously chased down off the last ball.
In the final ODI, chasing a target of 265, India required 105 off 124 balls with 9 wickets remaining before Shafali was again bowled by Molineux, this time attempting a sweep shot. Skipper Mithali Raj held herself back in a possible attempt to avoid slowing down the innings, sending in Richa Ghosh instead. Ghosh was dismissed without scoring when she chipped an innocuous Annabel Sutherland delivery to Ash Gardner at mid wicket, allowing Australia back into the contest.
The situation did not call for the high-risk pyrotechnics that the promising rookie is known for. Jemimah's proactive, low dot-ball approach would have been ideal for keeping the asking rate at a manageable level. Ghosh was perhaps batting one or two positions too high and going forward, she may be better suited to the finisher's role that India has lacked over the years.
Time for India to make a brave call?
21-year-old Rodrigues' case for T20I inclusion is simple. She's one of India's finest middle overs batters. She must play. 
With a plethora of middle order options heading into the day-night test beginning on Thursday, Rodrigues may have to wait for her chance in whites. The middle overs dynamism that serves her well in white ball cricket may be overlooked for the experience of Mithali Raj and Harmanpreet  Kaur. Test specialist Punam Raut and Yastika Bhatia — who has a reputation for playing long innings in domestic and age-group cricket — may well be ahead of Rodrigues in the pecking order.
With both Richa Ghosh and Yastika Bhatia impressing in their debut ODI series against Australia, Rodrigues road to the ODI team just got more complicated. While 18-year-old Ghosh is already looking like India's best candidate for the specialist finisher's role, Yastika Bhatia adds a point of difference as a left-hander. Unlike Jemimah, both of them can keep wickets.
The only person in India's ODI line-up that Rodrigues can replace is skipper Mithali Raj. Dropping Mithali would give India a chance of solving the middle overs dilemma, which has either cost them or threatened to cost them their last six ODI fixtures against England and Australia. However, it may be considered risky and destabilizing for India to drop their captain with just over five months to go to the 2022 World Cup.
Whether for better or for worse, Harmanpreet Kaur will likely slot back into the XI, displacing one of two recent debutants, who can count themselves unlucky to be excluded.
Yet, if India continues to risk an all-too-familiar middle overs slowdown at the hands of Kaur and/or Mithali Raj, they'll continue to struggle to match the totals that would challenge the world's best teams.
Perhaps it's time for India to make a brave call and back the resurgent Rodrigues across formats. It will cost an experienced hand their place in the team.
People will riot.
But the alternative — indeed the current default setting — could lead to another exit at the knockout stages of a World Cup.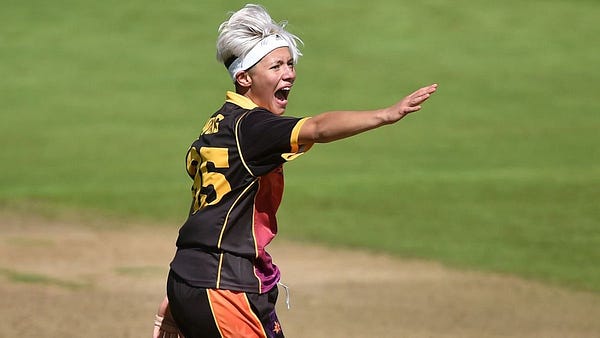 Header Image: Melbourne Renegades Media
—————
If you're a fan of a more global and gender-inclusive sport, please do sign up for this e-mailer. And if you liked this piece, please consider sharing it.
---
Your interaction will help us grow especially with newer readers, so leave a comment. We appreciate all responses :)
Lastly, you can find us on Twitter and Facebook