Discover more from All Over Cricket
Articles and insights for the global cricket fan by a diverse team of writers
Mahika Gaur: From the UAE to the Manchester Originals
Jay speaks to 16-year-old Originals' left-arm quick Mahika Gaur about her road to The Hundred and her career for the UAE
They'll never catch Mahika Gaur!
After bowling Malaysia's Nur Dania Syuhada to complete a hat-trick at the Under-19 T20 World Cup Asia Qualifier, the UAE and Manchester Originals left-arm quick sets off on a sprint as her teammates chase her, running laps around the UKM-YSD Oval in Malaysia.
'Theertha Satish, our captain was very annoyed because they all had to chase me! They had to run a lot. All of them afterward, they were just complaining that I made them run but it was an amazing feeling,' jokes Gaur in an exclusive chat with All Over Cricket.
Gaur ended the tournament with 11 wickets in five games at a stunning economy rate of 1.36. Her show of force propelled the UAE to the Asia Qualifier trophy and into the inaugural U-19 Women's T20 World Cup to be held next year in South Africa.
As a young child, Gaur used to play cricket in parks and gardens with her father. When she was seven years old, her family went on a trip to India, where she watched her first IPL game between Rajasthan and Delhi.
Young Mahika was hooked.
When her family returned to the UK, her father enrolled her in a club team as the left-armer started watching more and more cricket, and grew to idolize aggressive fast bowlers.
'Along the way, I've found many people I've looked up to. I've tried to take parts of their game into my game. Mitchell Starc: I just love his action and pace and everything! More recently, in the women's game, Shabnim Ismail.'
When she was 8 years old, the Gaur family moved to Dubai, where they enrolled their daughter at the world-renowned ICC Academy, where she had the opportunity to train with players from the UAE senior team.
'As an 8 or 9-year-old girl I'd go there and I'd be like 'I want to be there one day playing with these girls".'
'I remember the first ever ball I bowled was to Chaya Mughal [current UAE captain]. It was a loopy full toss and she probably felt bad that an 8-year-old was bowling to her. She didn't want to whack it so she just defended it,' recalls Gaur as a grin breaks out on her face.

🚨 AHMED RAZA EXCLUSIVE 🚨 ➡️➡️ READ:
bit.ly/3vS5Et5
🇦🇪 Since a scandal-hit 2019, UAE has rebuilt around a younger side & talismanic skipper Ahmed Raza, qualifying for Men's
#T20WorldCup
But in a different world, Raza may have never played international cricket...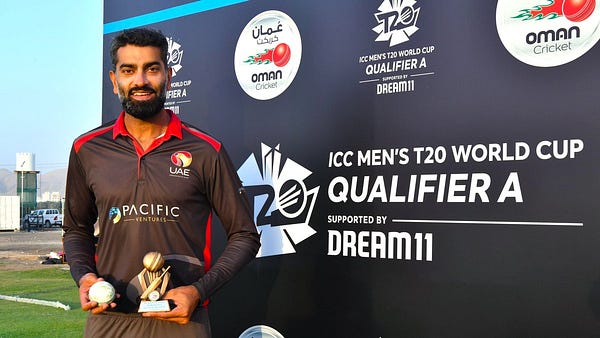 Yet, it soon became clear to Mughal and everyone involved in the UAE setup that the left-arm quick was one for the future. As Gaur approached her teens, the Emirates Cricket Board (ECB) had started to place a greater emphasis on the women's game.
Under the leadership of newly instated captain Mughal, the UAE had a clear goal: to win the T20 World Cup Asia Qualifier in 2021 and advance to the Global Qualifier. With her height, pace, and ability to swing the ball, the teenager was a central part of these plans in spite of the fact that she was yet to take her GCSE exams.
A month before the Asia Qualifier, Gaur's career received a potentially life-changing boost.
As the UAE began to open up to tourists for the first time since the pandemic, officials from Lancashire County Cricket Club had set up a coaching clinic exhibition at the Dubai Expo fair, where Gaur's school was on an excursion. When she stumbled upon the booth, Gaur grabbed one of the tennis balls on offer, ran into bowl, and immediately impressed the surprised Lancastrian delegation.
When they called the school to get in touch with her parents, they found out that Mahika was a UK passport holder, which meant she could play in England as a local player. After announcing a joint Lancashire Men's and Thunder Women's pre-season tour of the UAE in March 2022, which would feature five T20s between the UAE and the Thunder, club officials knew that they'd be getting another look at the talented Gaur. Yet, they were already convinced of her abilities. As a result, Gaur was invited to train with the Thunder in the UK during the 2022 English summer.

🚨 NEW ARTICLE! ➡️ READ:
bit.ly/3vFR3BY
"I don't know if I would've gotten into cricket if there wasn't a girl's team at school" –
@Kathryn_Bryce
🏴󠁧󠁢󠁳󠁣󠁴󠁿 The Scotland skipper talks to Jay about her cricketing origins, FairBreak, Scotland &
#TheHundred
@fairbreakglobal
Gaur's dream of becoming a professional cricketer was becoming brighter and brighter by the day.
However, this is when she suffered the biggest setback of her short playing career. In spite of bowling quickly and accurately at the senior T20 World Cup Asia Qualifier, she was getting unlucky with catches being dropped off her bowling, edges running down to the boundary, and plays and misses depriving her of wickets.
'I was bowling well. I just wasn't getting wickets. That made me feel as if I wasn't contributing to the team and I wasn't playing as best as I could.'
The pressure to perform continued to grow, as did her misfortune as Gaur's drought of wickets continued past the New Year and into the Thunder's pre-season tour this March. In spite of this, Gaur continued to be backed by those in the UAE set up and by the Thunder who were as keen as ever to help her refine her skills and realize her immense potential.
Soon enough, their faith in her would be vindicated in the most emphatic way.
In addition to the hat-trick against Malaysia at the U-19 Asia Qualifier, she took five wickets against Nepal, conceding just two runs in a spell that included four dismissals that were bowled or LBW. Nepal were bowled out for 8 as social media started to take (fleeting) notice of a player whose relative anonymity is surprising for anyone who has ever watched her bowl.  
Unbeknownst to the casual observer, while she was breaking records and shattering stumps, Gaur had to sit for two GCSE exams during the Qualifier. Still needing to sit three more exams, Gaur was forced to skip the ACC Women's T20 Championship, a qualifying tournament for the Asia Cup, where the top two teams would qualify to face India, Pakistan, Sri Lanka, Bangladesh, and Thailand in the main tournament.
Undefeated throughout the competition, the UAE lifted the Championship trophy, qualifying for the Asia Cup in the process to cap off a Golden Era for women's cricket in the gulf state.
All this recent success will see the UAE getting an unprecedented volume of games against full members and higher-ranked associates in both the T20 World Cup Global Qualifier and the Asia Cup.  Gaur heaps praise on skipper Chaya Mughal and coach Najeeb Amar for creating a culture of belief and excellence in the dressing room.
'Right now there is a lot of positivity and a lot of confidence. [Chaya] kept reiterating [the goal of qualifying for the Asia Cup]. She wants to get everyone in the team on the same level so we all have that hunger and that motivation to win.'
After sitting her remaining GCSEs, the left-arm quick began to train with the Thunder squad throughout the early stages of the English summer and impressed them enough to be awarded a contract with the Manchester Originals for this year's edition of The Hundred.
The 16-year-old was the second youngest player to be awarded a contract this year after Central Sparks' and Birmingham Phoenix's Davina Perrin, who is still just 15 at the time of writing.
Gaur, unsurprisingly, is chuffed to be sharing the dressing room with the likes of Sophie Ecclestone, Deandra Dottin, and Amy Satterthwaite.
'For me, personally, the experience had been amazing because there's so much experience in the dressing room. Just hearing them talk about the game I'm getting to learn so much. The coaches here have been so amazing in helping me notice things in my action and in my bowling which I myself wasn't noticing,' says Gaur.
While she does not know whether she will get to play this season, it is clear to her that the Thunder and the Originals are viewing her as a long-term prospect. When asked about her goals for her career in cricket, Gaur reminds me that she is yet to begin her A-levels. She says she will take stock of her options as she approaches graduation, after which she may take a gap year to pursue cricket.
For now, the quick bowler is not looking too far ahead. Her mantra is simple:
'Keep bowling fast, keep swinging it, and keep enjoying.'

🚨 NEW ARTICLE:
#CWG2022
Stats 👉 READ:
bit.ly/3AbANLn
🇦🇺 Australia scored at 6.27 RPO in the PP - The worst among all semi-finalists. But they bossed the middle + death, scoring at 8.67 & 9.84 Difference between their RR & opposition's RR at the death was 3.15 RPO 🤯
---
At All Over Cricket, we tell stories that the mainstream press ignores. Subscribe for more stories on women's cricket and associate cricket sent to your inbox. It's free!
You can also follow us on Twitter, where we often live tweet during big games and tournaments!