Discover more from All Over Cricket
Articles and insights for the global cricket fan by a diverse team of writers
Memorable Nepal Win, Ireland's Middle Overs, and Zeeshan at Three
Jay analyses the first two days of the Men's T20 World Cup Qualifier A
From the UAE's dominance to Nepal's historic win and Ireland's familiar middle overs woes, the first two days of the Men's T20 World Cup Qualifier A have already thrown up some interesting results and compelling narratives.
Let's take a look at a few of the many talking points from Friday and Saturday.
Nepal's memorable, imperfect win
Four days after the fourth anniversary of Karan KC Day, Nepal was at it again. They successfully defended their lowest-ever T20I total in an unreduced fixture. Remarkably, they did this without Karan KC and Sompal Kami, their two best quick bowlers and their two best finishers with the bat.
In the absence of the experienced duo, Kamal Singh Airee and Jitendra Mukhiya delivered a fiery opening burst that swung the pendulum decisively in Nepal's favour. As All Over Cricket's Rajan Shah had written about last week, Nepal's preparations for the Qualifier were marred by all-too-familiar tensions between CAN and its players.
Make no mistake: this win had as much to do with Nepal's resilience in the wake of this conflict as it had to do with Oman's epic bottle job.
Other than the closing stages of their innings, where they pummelled 26 in the last two overs, Nepal's top order was in all sorts. Aasif Sheikh tried to turn Bilal Khan — one of the best fast bowlers in associate cricket —through mid wicket and got a leading edge to Fayyaz Butt at mid on. In Bilal's next over, Bhurtel flicked him straight to Khawar Ali at mid wicket.
Each of the two openers had already collected a boundary off Bilal just a few balls before their respective dismissals. They got out to low percentage shots that deprived them of the opportunity to cash in against Oman's change bowlers. Their indiscretions also reduced Nepal to 12 for 2 in the first three overs and left Dipendra Singh Airee with the unenviable task of pulling off yet another rescue act.
Monday's clash against Canada isn't exactly a must-win for Nepal, who boosted their NRR when they defeated Oman by 39 runs. However, if they are once again restricted to a paltry total, it would open the door for both Canada and Oman to leapfrog them into the semi-finals.
Nepal's morale is not as high now as it was during the short-lived Malla-Whatmore era, which inspired hope that the team could move on from the retirement of the talismanic Paras Khadka.
A win would allow boost Nepal's morale and allow them to top their group and play probable opponents Ireland instead of red-hot qualification favourites the UAE.
Zeeshan Maqsood at number three
On Saturday, chasing a challenging 156 against Canada, Oman skipper Zeeshan Maqsood did something he'd never done before in T20Is: he walked in at three.
Now, I don't want to brag but I called for this move on Twitter during the innings break! My thinking was that left-arm spinner Saad bin Zafar and leg-spinner Junaid Siddique would have troubled Oman's right-hand heavy top-order.
Perhaps Maqsood confirmed that great minds think alike!
Sensing left-handed Maqsood's intention to capitalize on the ball spinning into him, Canadain skipper Navneet Dhaliwal brought off-spinner Harsh Thaker into the attack.
Maqsood didn't bite.
He was watchful against Thaker, accumulating seven runs in nine deliveries. At first, left-arm spinner Saad bin Zafar nailed his lines to Maqsood, conceding just four runs in the first eight balls that he bowled to him.
And then Oman's skipper flipped the switch. He lifted the left-arm spinner over long on for a six to end his first spell. When bin Zafar was brought back into the attack for his last over, Maqsood deposited him over the ropes twice more in his first two deliveries. Overall, he took 26 off the 14 balls bowled to him by Canada's premier spinner. In between all of that, he pulverized 43 runs off the 21 balls he faced from Canada's seamers.

🚨 EXCLUSIVE: DIETER KLEIN ⏩⏩
bit.ly/3sMGQBh
✍️ Germany & former Leicestershire man spoke to
@malhar_hathi
"I'll definitely be in the loop with German cricket. That won't stop soon" 🇩🇪 Germany's first
#T20WorldCup
Qualifier game is tomorrow vs Bahrain 📸
@leicsccc
Thanks for reading All Over Cricket! Subscribe for more associate cricket and women's cricket content!
This may well have been the best T20I innings of Maqsood's career, which up to that point had been split into two phases: Maqsood the opener and Maqsood the middle order batter.
In 15 innings as an opener, Maqsood has averaged 24.5 with a Strike Rate of 117. Then in 2019, he moved himself down to number four to address Oman's issues with the bat in the middle overs.
Sadly for him, that backfired.
In nine innings at number four across his career, he's averaged 13.6 with a strike rate of 93. At number five, he's averaged 45.5 across seven innings but has only struck at 103 — a concerning figure for someone who bats toward the end of the innings.
Maqsood's move up to three could signal a third phase in his career as a batter. More importantly, it could help Oman compensate for the absence of Aqib Ilyas, their best batter across formats, and free up openers Jatinder Singh and Kashyap Prajapati to play their natural games and exploit the fielding restrictions.
Ireland's soft middle order
Whether chasing or batting first, it's become a familiar, tired narrative for Ireland: They start well in the Powerplay, slow down in the middle overs whilst losing wickets before struggling to finish the innings at the death.
It's a big reason why Namibia knocked them out of last year's World Cup and it's a big reason why the UAE defeated them for the fourth consecutive time in T20Is on Friday.

🚨 Harry Tector EXCLUSIVE!! 👉
bit.ly/3z0gIV2
🗣️
@harry_tector
opens up about: ☘️ Being dropped from the U19s in 2015 ☘️ Captaining Ireland at 2018 U19 WC ☘️ Breaking into senior team ✍️
@malhar_hathi
Thanks for setting this up
@Stuff_by_Craig
#IREvSA
#BackingGreen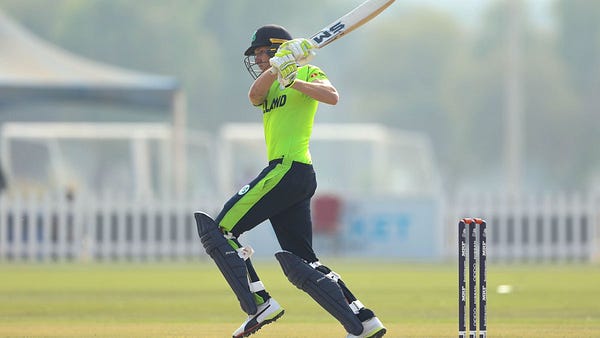 Against Namibia, they reached 55 after the Powerplay before losing 40/3 in the next nine overs and only accumulating 30 in the final five overs. On Friday, they were 50/0 after six overs before losing three wickets in their next 14 deliveries to spin. In the final five, they could only muster 36, losing 4 wickets.
From the start of 2021 up to and including the game against the UAE, Ireland has scored at a steady 7.48 runs per over in the Powerplay, averaging a respectable 30.46.
In the middle overs, however, they only score at 6.74 runs an over and lose a wicket every 18 deliveries. In 11 out of 19 games in this period, they have lost between three and six wickets in the middle overs. To make matters worse, they only score at 7.31 runs per over in the final five overs of a T20I innings.
Since 2021, there hasn't been a single instance in the same innings where they've scored in excess of 7.5 runs an over in the middle phase and at 9 or above at the death.
In the same period, all of their five most productive middle phase performances in terms of runs scored have come on the back of Paul Stirling surviving the Powerplay.
The numbers make from grim reading. Whichever way you look at it, Ireland will not be consistent in T20Is until they address their post-Powerplay batting. It cost them a place at the Super 12s in the last World Cup. This time around, there is every chance they won't even make the World Cup.
---
If you're a fan of a more global and gender-inclusive sport, please do sign up for this e-mailer. And if you liked this piece, please consider sharing it.
You can also follow us on Twitter and Facebook :)