Discover more from All Over Cricket
Articles and insights for the global cricket fan by a diverse team of writers
New Zealand vs England: The Thriller that Never Should've Been
Jay breaks out the stats in his look back at one of the best games of the World Cup
England needed 28 with 6 wickets in hand. The required rate wasn't an issue. Yet, the defending champions somehow lost their next five wickets for the addition of just twenty runs.
Anya Shrubsole eventually saved their blushes, but how did a foregone conclusion turn into yet another heart-stopping thriller? 
Outstanding Mackay, shambolic England
Frankie Mackay was the destroyer-in-chief during England's chase. Her skillful use of flight and variations put England's batters in a spin. Mackay caught Sophia Dunkley in two minds to instigate England's collapse. Dunkley was unsure where the ball would pitch, so she didn't move her feet, playing inside a delivery that didn't spin as much as she expected. The gentle downpour at the time also caused the ball to skid onto her and she lost her off stump.
While Sophie Ecclestone was arguably unlucky to chop one onto her stumps, Kate Cross was yet another batter undone by Mackay's impeccable control of length. She too was caught wrong-footed as an arm ball skidded on and straightened to catch her plumb in front. 
England, in their defence, lost two wickets to Mackay's skill and one to an unfortunate chop on.
However, it was inexcusable for someone as experienced as Katherine Brunt to attempt a suicidal second run with a manageable nine runs required off 29 balls and a mere two wickets in hand.
This wasn't the only example of a self-inflicted English wound. England continues to open with Danni Wyatt. As we discussed in our analysis of England's win over India, in 22 innings as an opener against New Zealand, South Africa, Australia, and India, Wyatt averages 14.09 without a single half-century.

Lauren Winfield-Hill hasn't scored an ODI fifty for more than five years. If these returns aren't enough to give Emma Lamb a run, it makes you question why she was even picked in the squad.
To make matters worse, Dunkley has gotten starts in all five of her tournament innings without kicking on. While she can be excused as this is her first-ever World Cup, Amy Jones is a seasoned campaigner. Aside from her 53 against South Africa, she has only scored 16 runs in her other four innings in the World Cup.
Over their last three games, England has undoubtedly benefitted from Charlie Dean's inclusion in the team. However, this has forced Katherine Brunt to bat at seven. Brunt has aggregated a mere 49 runs in her five innings so far, and her struggles have forced the lower order to work overtime.
England has been far too reliant on Nat Sciver and Tammy Beaumont for runs. With upcoming fixtures against Pakistan and Bangladesh, they are reasonably well-positioned to make the semi-finals, but their inconsistent batting makes it hard to believe that they can realistically defend their trophy.
New Zealand not batting the full fifty
Look! I wish this article didn't have to be so grim, but much like England, New Zealand's batters have also underwhelmed in the tournament.
In 52 innings since the 2017 World Cup, New Zealand has failed to bat their full 50 overs on 23 occasions — more than any other team in the world in the same period.
In this World Cup, they've been bowled out four times in six innings — more than any other team. On average, they've lost a wicket every 29.62 deliveries — more often than any other team in the World Cup.
Against England, in spite of Sophie Devine having to retire hurt soon after Suzie Bates' dismissal, the rest of NZ's batting order was capable of putting a more competitive total on the board. They had better batting conditions during the game than England did, so an extra 30 runs were certainly manageable.
The White Ferns showed a lot of heart in defending a total without their main spearhead Lea Tahuhu. But they only had themselves to blame after failing (yet again) to bat out their full fifty overs.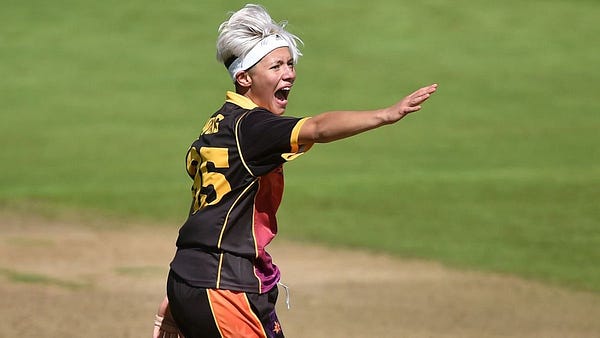 England's change bowlers vs. Katherine Brunt
A big reason why New Zealand was kept down to 203 was because of how effectively England's change bowlers operated in the middle overs.
According to CricViz data, during her spell of 3-35, 54.1% of Kate Cross' deliveries hit a good line and length. The corresponding figure for her entire tournament stands at 49.8%, which is higher than any other pace bowler in the World Cup.
In fact, since Kate Cross was recalled to England's ODI side in March 2019, nobody in the world has taken more ODI wickets.
In the same period, she is third in the list of highest wicket-takers bowling first change or later. She is one of only two seam bowlers in the top 10, with Ayabonga Khaka in first place.
In second place on the same list is top-ranked ODI bowler Sophie Ecclestone, who has only conceded 3.75 runs an over when bowling first change or later.
Charlie Dean's emergence has only added to England's threat in the middle overs. As we discussed in the aftermath of England's win over India, her ability to deceive batters in flight and her potent straighter one means that she consistently threatens both the inside and outside edge of the bat.
Unfortunately, Katherine Brunt, who should be leading the attack has underwhelmed throughout the tournament. All too often, Brunt has bowled far too short on both sides of the wicket, and that was no different against New Zealand, where Suzie Bates and Sophie Devine cut her away when she was wide and pulled her away when she was too straight.
Brunt has only taken one wicket in 36.5 overs in the tournament. Her struggles with the bat have only served to lengthen England's tail. Her struggles with the ball have made it harder for England to start well in the field.  
Prior to their win over the West Indies, Pakistan had only scored at 3.68 runs per over against spin in the World Cup. Bangladesh has only scored at 3.40 runs an over in the tournament. With England playing their next two games against these two teams, whose batters don't have the power to go big against spin, England could replace a misfiring Brunt with Emma Lamb, who is a more than capable off-spinner.
The sentence above is not one I ever thought I'd have to type at the start of the tournament. Yet, instead of trusting the reputation of a player, perhaps it's time England started trusting the data when selecting a team.
Thanks for reading All Over Cricket! Subscribe for more women's cricket and associate cricket content :)
---
If you're a fan of a more global and gender-inclusive sport, please do sign up for this e-mailer. And if you liked this piece, please consider sharing it!
You can also follow us on Twitter and Facebook :)