Discover more from All Over Cricket
Articles and insights for the global cricket fan by a diverse team of writers
Pakistan's T20 Intent, Sri Lanka's Chamari Reliance
Never shy of using statistics, Jay recaps Sri Lanka's tour of Pakistan
It's hardly surprising that Pakistan won five out of the six limited overs games against visitors Sri Lanka. What separates the two teams and determines their on-field fortunes is the way the women's game is administered in both countries.
Sri Lanka went 631 days without international cricket between their final game of the 2020 T20 World Cup and their first game of last year's Women's World Cup Qualifier. In the same period, Pakistan played 11 ODIs and 6 T20Is.
Moreover, the Pakistan Cricket Board's Women's Wing ensured that the Southend Club Cricket Stadium in Karachi was packed full of school students for each of the three T20Is. Simply put the PCB cares more about women's cricket than Sri Lanka Cricket does.
As things stand, for Sri Lanka to compete with Pakistan across formats, they need flashes of individual brilliance, which, of course, often come from the blade of Chamari Athapaththu. Pakistan, on the other hand, has a system that is producing a deeper pool of talent, which makes them less reliant on one or two star players.
Having said that, if Pakistan hopes to compete with the world's strongest teams in the Women's Championship, this year's Commonwealth Games and next year's T20 World Cup, they need to make some strategic changes. Here are three more takeaways from Sri Lanka's tour of Pakistan. 
Pakistan's T20I intent and batting order
She might be a mere 13 games into her international career, but it's clear that Ayesha Naseem is one of the most powerful hitters Pakistan has ever produced.
When she was left out of this year's World cup squad, her inexperience and her lack of exposure to top-quality international opposition may have justified that decision.
However, after her exploits in the T20I series, it was even more surprising to see her excluded from the squad for the ODI series against Sri Lanka. In the 2nd T20I, she played a composed knock of 45* (31) which included a six that was muscled off the back foot over long on off the bowling of Kavisha Dilhari. The ball wasn't that short. It wasn't there to be hit. Yet, Naseem had the audacity and the strength to clear the long on fielder.
Given her raw talent, you can see why skipper Bismah Maroof chose to promote her ahead of Nida Dar — Pakistan's best T20 batter over the years. Yet, for a while now, Pakistan's top order has struggled in the first half of their batting innings, most notably in the Powerplay.
The last time Pakistan scored more than a run-a-ball in the Powerplay was their first match of the 2020 T20 World Cup against the West Indies. Not once have they scored at above six runs an over in the Powerplay in 12 innings since then. In the same period, their average run rate has been a paltry 4.82 runs per over while they've lost an average of two wickets.
Thanks for reading All Over Cricket! Subscribe for more stories on women's cricket and associate cricket :)
This self-inflicted wound has meant that Dar and Aliya Riaz have often walked in needing to either perform a repair job or to play stupendous knocks to get Pakistan close to a par score. 
Put simply, Pakistan needs a change of personnel at the top. Enter Ayesha Naseem. It is hard to believe that Pakistan did not experiment with Naseem at the top of the order during the Sri Lanka series. On the surface, she seems tailor-made for Powerplay batting and there is every chance she can play a role similar to the one Shafali Verma plays for India.
Naseem's elevation to the top of the order will also free up Nida Dar and Aliya Riaz to bat higher up the order, where they can face a larger share of deliveries.

🚨 NEW ARTICLE! ➡️ READ:
bit.ly/3x6XXkx
🇮🇳 There's clearly enough depth for a fully-fledged Women's IPL. There's clearly a growing market for women's cricket in India. What is less clear, however, is when exactly the BCCI will start a
#WIPL
✍️
@JayDansinghani
📸 BCCI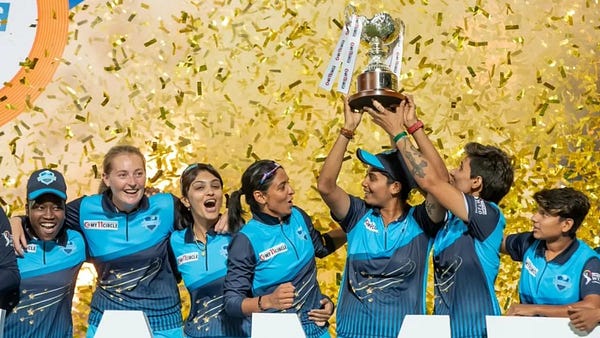 The Sidras
Sidra Ameen has scored two centuries in her last 7 ODI innings, which includes her solo effort of 104 in a losing cause against Bangladesh at the World Cup. Ameen is a good player of spin, who latches onto any width and often clears her left leg to create more room to access the off side.
Make no mistake: if you can score runs against Bangladesh's spinners, you're a good player. While she has expanded her strokeplay and has drastically improved as a batter, only time will tell whether Ameen can perform against higher-ranked opponents and some of the best swing bowlers in the world.
Her namesake, wicket-keeper batter Sidra Nawaz continues to underwhelm with the bat in international cricket. Yet, her prowess behind the stumps is reason enough for her to be chosen as a regular starter for Pakistan. Sri Lanka gifted Pakistan 11 run outs across six games on tour. After five run outs in the final T20I, they suffered a total of five more run outs across the three ODIs.
This number would have been smaller had it not been for Nawaz who on three separate occasions gathered inaccurate throws (that would have been too wide and/or too high for most keepers to gather) to affect run outs.
Chamari over-reliance and strike rotation
It's no surprise that the one game Sri Lanka won, the third ODI, was a game where Chamari Athapaththu hammered 101 off just 85 balls. Yet, had it not been for the calm head of Harshitha Samarawickrama at the other end, Chamari would have found it harder to notch up a cathartic, match-winning century.
In the first two ODIs, Sri Lanka's top four was stacked with players with a low non-boundary strike rate (NBSR). Chamari's NBSR of 42 can, of course, be forgiven. However, opener Hasini Perera (39.4), Prasadani Weerakkody (41.5), and Hansima Karunaratne (19) don't have the boundary-striking ability to counteract their strike rotation issues.
Samarawickrama, in contrast, had the best NBSR out of any batter in the series, striking at 58.1 off non-boundary balls. Indeed, the fact that Perera and Karunaratne were dismissed inside the first two overs was a blessing in disguise for a Sri Lankan dugout that was treated to a 152-run stand between Chamari and Samarawickrama.
Unsurprisingly, Bismah Maroof was Pakistan's busiest player with an NBSR of 53.8. Hot on Maroof's heels was Kavisha Dilhari with an NBSR of 53.3. However, their NBSRs were bettered by Nilakshi de Silva's 57.
By dropping Weerakkody for the third ODI, Sri Lanka was able to push Dilhari and de Silva up to positions five and six, respectively. This allowed them to maintain a good run rate in the wake of Chamari's dismissal, which propelled Sri Lanka to an impressive and above-par 260.
Sri Lanka's tactics were noticeably better in the third ODI compared to the first two. They also clearly have a middle order trio capable of minimizing dot balls and complementing their prolific captain.
Yet, perhaps they should consider dropping either Perera or Karunaratne out of their top three slots and pushing Samarawickrama and one of either Dilhari or de Silva up to three and four, respectively. This would help Sri Lanka's batters avoid the procession of dots and all too frequent maidens that have characterized their batting in the first half of ODI innings over the years.
---
Like what you read? Subscribe to All Over Cricket for more stories on women's cricket and associate cricket!
You can also follow us on Twitter, where we often live tweet during big games and tournaments!