Discover more from All Over Cricket
Articles and insights for the global cricket fan by a diverse team of writers
Paras Khadka: The Pioneer that Transcended the System
Rajan Shah pays tribute to Paras Khadka while lamenting the systemic issues in the background
Eight years ago, Paras Khadka was in tears, his voice trembling, his words broken, and his throat probably felt like cracked soil in a drought. Yet, before he left the podium he mumbled these words: "If a cricket team can achieve this, imagine how much a proper system can achieve."
He stepped off the podium, away from the cameras, and sat around his teammates who were also trying to blink away the tears running down their eyes.

Cricket Association of Nepal (CAN) had hosted a press conference upon the Nepal Men's Team's arrival in Kathmandu. They had just secured the nation's maiden berth at an ICC world event. Just days earlier, they had defeated Hong Kong off the last ball of a thrilling quarter-final, eventually finishing third in the 2013 ICC World T20 Qualifier to earn their place at the 2014 World T20.

It was an emotional moment for both the team and the nation. All the years of hardships, sacrifices, uncertain career prospects, and relentless pressure from an expectant nation had finally culminated in a festive homecoming.
Khadka is known for his strong, stoic character and for staying calm in any situation. But his tears betrayed the buildup of emotions he had concealed all this time. Nepal had reached a World Cup against all odds. Facing more fancied opponents was the easy part, but fighting peculiar demons within the system is what made this a great achievement. After this monumental chapter in Nepal cricket's short history up to that point, they should have skyrocketed towards bigger and better things.
But that didn't happen.
Whilst the golden crop of players — Gyanendra Malla, Basant Regmi, Shakti Gauchan, Sharad Vesawkar, and Sompal Kami — were there to take Nepal cricket to newer heights, Khadka submitted his resignation from the captaincy in 2015, fighting one of many battles with the CAN at the time. Thankfully, to avoid a total disaster, the National Sports Council (NSC) stepped in to mediate between the two parties.

All Khadka wished for was a proper system, which included a one-day domestic set-up and a structured pathway to the national team. In 2013, his tears searched for comforting words from CAN for things to improve. He yearned for a better life as a cricketer. The players deserved it. Today, in 2021, he has retired, but his aims remain the same: He still yearns for a better life for cricketers as he embarks on a journey into cricket administration. This time he wants to stay on the other side of the podium.
"I have retired from my passion, but my career has only started," said Khadka during his retirement presser. Khadka further stated that he may well be only 33, but he feels like a 50-year-old. At a time when sportspersons all over the world are coming out and taking well-deserved mental health breaks, Khadka has pushed on all these years. Perhaps that is what has worn him down even though he still has a few good years left in him.

If Khadka felt it was time to hang his boots, we should respect it. He has earned the right to retire from Nepal cricket, but Nepal cricket, more specifically CAN, should not retire from Khadka.

I strongly believe that Nepal has under-achieved in international cricket. But I don't have many answers on how it could have achieved more apart from a fully functional, progressive, and well-run CAN. Whether it was gaining ODI status in 2018 or when it came to setting up domestic leagues to bridge the gap to international cricket, CAN was not there when Nepal Cricket needed it the most. Even if the men's team was not performing, CAN did nothing to address the issue. It was left to the players and the coaches to ensure that Nepal Cricket did not go into free fall.
As fans and journalists covering the game, if we can get frustrated with things not happening to our likening, I can only imagine what went through Khadka's head all these years. He took all kinds of decisions, gaining plaudits one day and critics the next.

I remember talking to him in 2019 after his maiden hundred for Nepal. I was intrigued by him going strong despite all the things that happen (or don't happen) in Nepal cricket. Yet, Khadka kept floating above it and moving ahead with a paddle of honesty, hard work, and commitment.
In April 2019, Khadka stated: "You've got to be honest with everything you do in life. I think it comes down to my hard work and commitment. I just want to help Nepal cricket grow. I want to contribute for the team, one way or the other."
Six months later, he'd quit the captaincy for good.
From representing the nation at the age-group level to captaining them at a senior World Cup, Khadka has achieved everything a cricketer from Nepal could dream of. As a batter, he scored Nepal's first century in both T20I cricket and ODI cricket. As a captain, he led the team from Division 5 of the World Cricket League in 2010 all the way to the top-tier of ODI status in 2018.

He is the biggest match-winner Nepal has ever had, and most of his starring performances came during his ten-year reign as skipper from 2009 to 2019 before he relinquished the responsibility in the aftermath of CAN's reinstatement by the ICC.

In the 15 T20Is Nepal won, Khadka averaged 40.07. This dropped to 17.37 in 17 losses. Similarly, he averaged 56 in victorious ODI matches compared to 17 in lost matches. Clearly, Nepal desperately needed Khadka and arguably no batter from any team in this millennium has been more critical to their side's chances of victory than Khadka has been to Nepal's. Not to be forgotten, his bowling remains the ultimate bonus. Nepal famously secured its first-ever ODI win by a run against the Netherlands in 2018 when Khadka defended 6 off the last over.
However, out of the countless memories Paras has given us, his 87 against Malaysia in front of roughly 20,000 fans at the TU Cricket Ground in the year 2013 will be engraved in my memory forever. I remember it like it was yesterday. It had remained Khadka's highest score until his maiden T20I hundred against Singapore in September 2018. Nepal defeated Malaysia comfortably with Khadka top-scoring.
Nepal had reached the semifinal of the ACC Elite Trophy, which Afghanistan would eventually win. Strangely enough, around this time, Afghanistan and Nepal were in the same bracket as the next big cricket nations. Afghanistan is an ICC full-member today.
Let that sink in for a moment…
But I digress.

The atmosphere against Malaysia was at a fever pitch. Fans all over Nepal took overnight buses to watch their favorite players live in the flesh. I was one of those fans! It was the first-ever international match I had watched at a ground. The 23-year-old me had never seen that many people in one place ever before in my life. At that very moment, I realized, Nepal cricket had megatons of potential.
As I type this, I can recall the sound the ball made every time it hit the sweet spot of Paras' bat, which was then followed by a frantic cheer from 20,000 people going crazy all at once. This day will always have a special place in my heart as I never again watched a home Nepal match from the crowd section for obvious reasons!

I have no shame in admitting that I was the biggest critic of Paras Khadka. I wanted Nepal to win every single game and I'd find something or the other to write about on how this team can improve and get consistent results.
But I quickly grew to realize that players can only do so much for a nation's cricketing fortunes. To his immense credit, the inspiring, path-breaking Paras Khadka — with his dignified leadership and prolific returns on the field — did everything within his power to make us forget this.
Paras, if you're reading this, there has never been — and there may never be — anyone like you.
Thank you for the memories, champion.
Love,
Nepal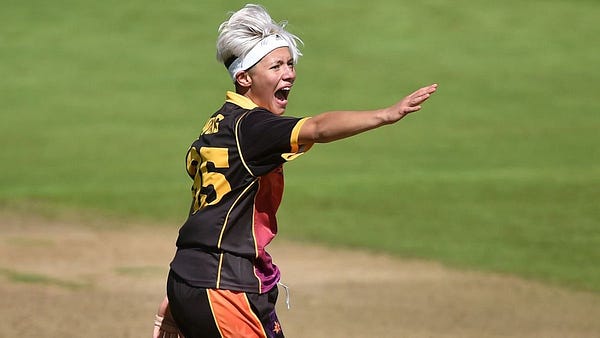 Header Image: ICC
—————
If you're a fan of a more global and gender-inclusive sport, please do sign up for this e-mailer, and if you'd like to, share this piece too.
Your interaction will help us grow especially with newer readers, so leave a comment. We appreciate all responses :)
Lastly, you can find us on Twitter and Facebook