Discover more from All Over Cricket
Articles and insights for the global cricket fan by a diverse team of writers
The way forward for Ireland: Can they make the Super 12s?
Jay looks back at Ireland's Qualifier A campaign and opines that they are better positioned to advance to the Super 12 stage in 2022
Talk about a bogey team! Ireland's men have now lost five consecutive T20Is against the UAE. Whether it's an audacious Mohammad Waseem century or a strangle job led by Ahmed Raza's spinners, the Irish can't seem to get one past the gulf nation.
However, in spite of finishing second in the recently concluded Men's T20 World Cup Qualifier A, the Andrew Balbirnie-led outfit finished the tournament with encouraging signs that they could advance to the Super 12 stage during this year's World Cup in Australia.
Improved post-powerplay batting
As we discussed in our mid-tournament review, Ireland has had major issues with their middle overs and death overs batting in recent times. Between the start of 2021 and the game against Bahrain, they scored at 6.74 runs per over between overs seven and 15. The corresponding figure at the death was 7.31.
However, in their last three games of the qualifier, they had noticeably more intent in both the middle overs and at the death. Chasing a paltry 108 against Germany, they finished off the game scoring 57/3 in the last 7.1 overs of their chase. Against the stronger bowling units of Oman and the UAE, they accumulated 77 and 75 runs, respectively in the same phase along with 43 and 48 in the final five overs.
In fact, the final against the UAE was the first time in 24 T20Is since 2021 that they've scored more than 7.5 runs per over in the middle and in excess of nine runs an over at the death in the same innings.
Harry Tector's inclusion at number four — after being left out of the T20I squad on Ireland's tour of the USA — has been a big reason for Ireland's improvement in the Post-Powerplay overs. After being reduced to 69/6 after 11 overs against the UAE, he helped Ireland pummel 90 runs in the last nine overs. The most audacious stroke of his innings was the very first ball of the 7th over when he lofted leg-spinner Karthik Meiyappan over long off for six. Ireland was 36/3 before that, and Meiyappan had been Ireland's tormentor in chief taking 9 wickets in 4 games against Ireland up to that point.

🚨 Harry Tector EXCLUSIVE!! 👉
bit.ly/3z0gIV2
🗣️
@harry_tector
opens up about: ☘️ Being dropped from the U19s in 2015 ☘️ Captaining Ireland at 2018 U19 WC ☘️ Breaking into senior team ✍️
@malhar_hathi
Thanks for setting this up
@Stuff_by_Craig
#IREvSA
#BackingGreen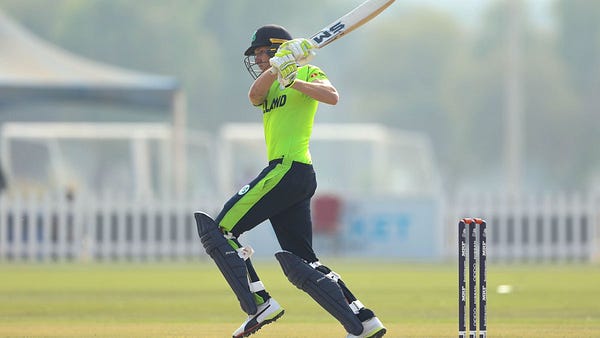 Thanks for reading All Over Cricket! Subscribe for more global cricket and women's cricket content!
Tector's refreshing audacity and his power are something Ireland has been missing in the middle order. He's clearly in the form of his life having scored 7 half centuries in his last 10 ODI innings, and now he's rewarding the selectors' faith in him with similar returns in T20Is.
Tector's success at number four has ensured that Ireland can post competitive totals even if Paul Stirling is dismissed early. These are still early days, but there is hope that Ireland will be less top-heavy heading into this year's World Cup than they were in the UAE last year.
Strength in seam and the rise of McBrine
Another player who has converted his ODI returns to the shortest format is Andy McBrine. After scoring 128 runs and taking ten wickets in a Player-of-series performance against the West Indies, he picked up six wickets in five games, conceding a mere 5.57 runs an over. He also struck 36 off 21 deliveries against Oman to give Ireland the impetus they needed for a convincing win. Make no mistake: Andy McBrine is an all-rounder who adds balance, pedigree, and flexibility to Ireland's line-up.
Ireland will face Scotland, the West Indies, and the winner of Qualifier B in the first round of this year's World Cup. In Josh Little, Craig Young, and Mark Adair they arguably possess the best seam bowling attack in their group, which should challenge any and all of their opponents. Moreover, if McBrine can replicate his returns against higher-ranked opposition, it would give skipper Andrew Balbirnie another four overs to bank on.
There are concerns, however, about Ireland's fifth bowling option. Simi Singh and Gareth Delany have been far from convincing against higher-ranked opposition in recent times. Singh leaked 96 runs in the 11 overs he bowled at last year's World Cup without managing to take a single wicket.

🚨 EXCLUSIVE: DIETER KLEIN ⏩⏩
bit.ly/3sMGQBh
✍️ Germany & former Leicestershire man spoke to
@malhar_hathi
"I'll definitely be in the loop with German cricket. That won't stop soon" 🇩🇪 Germany's first
#T20WorldCup
Qualifier game is tomorrow vs Bahrain 📸
@leicsccc
Delany, on the other hand, was only entrusted with two overs across the entire Qualifier A tournament, in which he leaked 23 runs. Batting is clearly his primary suit and his repeated drag downs are a reminder of how risky it can be for a captain to turn to a part-time leg-spinner who doesn't have overs under his belt.
The importance of game time
There are many systemic issues that are unlikely to be resolved before Ireland flies to Australia. A lack of adequate practice facilities has long been a problem for Ireland's national teams who've often had to travel to England to prepare for big tournaments. The picturesque Malahide does not distract from the fact that Cricket Ireland has still not built a world-class stadium befitting their Full Member status. And, of course, the gulf between Interprovincial cricket and international cricket means that it remains difficult for young players to hit the ground running in their first few games for the national team.  
However, there are things Ireland can do to build on the promise they've demonstrated towards the end of the Qualifier. Specifically, they will have to play as much T20 cricket as possible against high-quality international outfits before the World Cup in Australia.
While a one-off T20I against India in the summer will be a boost for Cricket Ireland's coffers, the yet-to-be-confirmed tour of Zimbabwe — if it does indeed go ahead — would give new Head Coach Heinrich Malan an opportunity to test promising fringe options like Shane Getkate, George Dockrell, and even William McClintock against Full Member opposition. There is every chance that Ireland will be grouped with Zimbabwe who will be hosting Qualifier B, in which case the tour could also prove to be a useful scouting exercise.
The size of boundaries in the UAE could have been one of the reasons why the West Indies were unable to replicate their success of 2016 in last year's World Cup. They will face similarly large boundaries in Australia. However, as demonstrated in a 3-2 victory in a T20I series against England, their batters have shown the ability to move away from the six-or-nothing approach that doesn't work as well in an age of data-driven analysis and matchups. It is their bowling, however, that is a concern with no discernible spearhead in their attack.
Kieron Pollard's men are clearly the favourites to get out of their group and into the Super 12s, but as Ireland showed in their historic 2-1 triumph in the Super League ODI series, they are capable of going toe-to-toe with other lower-ranked Full Members.
Scotland's top order flattered to deceive in last year's World Cup. They got through to the Super 12s on the back of their bowling efforts and a memorable rescue act by Chirs Greaves against Bangladesh but fell flat toward the end of the tournament with bubble fatigue and injuries weighing them down. Ireland's pace trio will be looking to disrupt Scotland's top-order, who may be hampered by a lack of game time heading to Australia much like they were last year.
There is no guarantee that Ireland will be able to improve on its returns from last year. Yet, if they can get into the Super 12 stage, they could re-shape perceptions that they are simply ODI specialists.   
---
If you're a fan of a more global and gender-inclusive sport, please do sign up for this e-mailer. And if you liked this piece, please consider sharing it!
You can also follow us on Twitter and Facebook :)