Discover more from All Over Cricket
Articles and insights for the global cricket fan by a diverse team of writers
This is probably the greatest Dutch team ever assembled: Ryan Campbell Interview
The Netherlands' Head Coach talks to All Over Cricket about the T20 World Cup and more
It should have been a blockbuster home summer for the Netherlands. They'd just qualified for the T20 World Cup by winning seven of their eight games at the 2019 Qualifier, including the final against Papua New Guinea. And now, England and Pakistan's men's teams were scheduled to tour the Western European nation for 3 ODIs each as part of the Men's Cricket World Cup Super League.  
"We were over the moon when we won the World Cricket League Championship and got the qualification to be involved in the Super League," recounts the Netherlands' Head Coach Ryan Campbell in conversation with All Over Cricket.
"It gave an associate the opportunity to have a [regular] fixture list against full members for the first time ever."
Sadly, Dutch cricket's momentum came to a grinding halt when the Covid-19 pandemic hit. Their entire international home summer, including the series against England and Pakistan, was postponed.
532 days elapsed between the Dutch winning the Qualifier in 2019 and their next international assignment, a tri-series in Nepal that also involved Malaysia. 
"Our players had three days training before [the first game of the Nepal tri-series]…It was the first time we'd been outdoors in six months and one of those days got washed out!" says Campbell with a wry smile.
The rustiness showed in their very first outing against the hosts, where, batting first, they could only post 136 on a flat track. In their defence, they were without their group of seasoned county professionals such as Ryan ten Doeschate, Colin Ackermann, and Roelof van der Merwe.    
"I didn't even ask any of our county lads if they wanted to come," admits Campbell, who saw the tour as an opportunity to build a deeper talent pool.  
"I understand what they can do and where they fit into the whole big scheme of my jigsaw. I need to see what a Philippe Boissevain does under the pressure of international cricket. I need to find out what Bas de Leede can do."
De Leede laboured to 41 off 49 balls in that first game against Nepal. Two games later, he followed it up with an unbeaten 81 off 42 against the same opponents to help the Dutch chase down 206 with three balls to spare. It was a crucial knock for the third generation player of the famed de Leede cricketing family. After a frustrating period where he suffered two stress fractures in his back, he was forced to remodel his action and reconsider his ambitions of becoming a genuine all-rounder. Campbell believes this tumultuous phase had a knock-on effect for de Leede's batting.
To his credit, he's forced his way into The Netherland's squad for their World Cup campaign, which kicks off next Monday against Ireland in Abu Dhabi. His continued development is just one of various selection dilemmas for The Netherlands. Coach Campbell also highlighted the need to determine the composition of his bowling attack and who opens with Max O'Dowd.
Campbell famously used four fast bowlers throughout the 2019 Qualifier despite surfaces in the UAE having a reputation for aiding spinners. The strategy worked because of the quality of his pace battery and the team balance afforded to him by spin-bowling all-rounders van der Merwe, Ackermann, and skipper Pieter Seelaar.
"This is probably the greatest Dutch team ever assembled," says Campbell, who is grateful for the choices he has, and confident the Netherlands can put up a strong showing. He does, however, warn that the "Greatest Team" tag would only apply if they managed to progress to the Super 12 stage of the World Cup by finishing in the top two of a group that also includes Sri Lanka, Ireland, and Namibia. 
While Namibia may be the bookmaker's least favourite side in the "group of death", Campbell and Assistant Coach James Hilditch are wary of the threat they carry as a team that's enjoyed a consistent dose of cricket in the lead up to the World Cup.
"The difference is, when you talk about Covid and us missing [532] days of cricket, Namibia never missed a beat. They were continuing to play locally, continued to be able to bring international teams and South African teams to town…They honestly scare the hell out of me!" admits Campbell as he lets out a nervous laugh.
Campbell has every reason to worry about his opponents, who defeated the Titans 3-1 in a T20 series last month. That Titans squad featured experienced South Africa internationals Dean Elgar, Theunis de Bruyn, and Aaron  Phangiso among other cricketers capped at either the age group or senior levels for South Africa.
"[Namibia's team] is full of hitters, and now they've added David Wiese into that team, which not only gives them an extra experienced head in that middle order but it also gives them an extra bowling option," he adds.
When asked about Full Member Sri Lanka, Campbell is wary of the threat they pose despite a less than stellar record in white ball cricket across the last few years.
"Sri Lanka is a very proud cricketing nation. It's almost like a religion there. You just know if you're going to bring in youngsters, they're going to be good."
He also admits that Hilditch, who doubles up as the team analyst, has "had a nightmare trying to piece together what's going on" against a team that has chopped and changed its line-up as often as Sri Lanka has.
For now, however, Ryan Campbell has his sights set on their opening fixture against Ireland, a team he has fond memories of playing against. In addition to defeating them in the semi-final of the 2019 Qualifier, the Netherlands — despite missing their first choice middle order of country professionals — beat the Irish 2-1 at home during their opening Super League series.
The series also marked the first time that Dutch cricket was shown on Dutch television, being broadcast both in English and in Dutch. The first ODI, when Campbell's side defended a below-par 195 to win a last-ball thriller, will live in the memories of the Netherlands' fans for years to come.
When it comes to the T20 format, however, Campbell is particularly cognizant of Stirling, arguably the best batter across all teams in the group, and the ever-improving George Dockrell, who has transformed himself from a left-arm spinner into a middle order batter in the last few years.
Indeed, anything short of a victory in their first game will put the Dutch at risk of elimination in the first round even if they go on to win their two remaining fixtures. Moreover, failing to reach the Super 12 stage would also mean that they'd have to earn their way into next year's T20 World Cup in Australia by going through another qualifier. 
"You think about it now, you're going to have the ones that miss out but then you throw in Nepal, Zimbabwe, UAE... I'm not sure I want to go through those qualifiers trying to get a berth into Australia."
Campbell, while respecting his opponents, doubles down on the expectations he has of his team.
"I think we can take out some big scalps. I'd love to finish top of our group and take on Australia in the first game…putting Australia to the sword would be fantastic!"

🚨 Harry Tector EXCLUSIVE!! 👉
bit.ly/3z0gIV2
🗣️
@harry_tector
opens up about: ☘️ Being dropped from the U19s in 2015 ☘️ Captaining Ireland at 2018 U19 WC ☘️ Breaking into senior team ✍️
@malhar_hathi
Thanks for setting this up
@Stuff_by_Craig
#IREvSA
#BackingGreen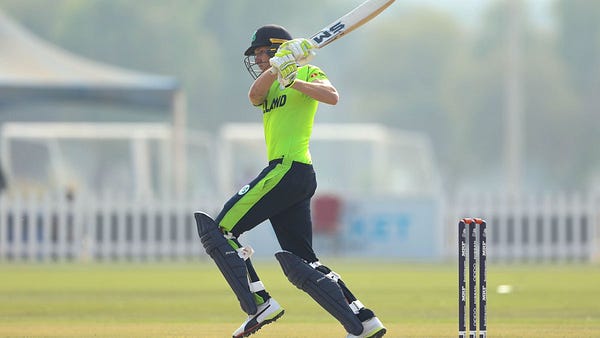 Header Image: International Cricket Council (ICC)
—————
If you're a fan of a more global and gender-inclusive sport, please do sign up for this e-mailer. And if you liked this piece, please consider sharing it.
---
Your interaction will help us grow especially with newer readers, so leave a comment. We appreciate all responses :)
Lastly, you can follow us on Twitter and Facebook