Discover more from All Over Cricket
Articles and insights for the global cricket fan by a diverse team of writers
Tim David Interview: From Amateur Cricketer to IPL Star in Less than a Year
Charting Tim David's bumpy cricket journey and his dramatic rise to prominence
Ten months ago, Singapore international Tim David did not have a professional contract. He was an amateur cricketer with slim hopes of breaking into Western Australia's first team.  
Next month, he will turn out for Royal Challengers Bangalore in the IPL. This comes on the back of contracts with Hobart Hurricanes, Lahore Qalandars, Surrey, Southern Brave, and the St.Lucia Kings.
In September 2019, I interviewed David in the lobby of a 5-star hotel in Kuala Lumpur, where Singapore was competing in the Challenge League, part of the pathway to the 2023 Men's Cricket World Cup. He'd just scored his 5th consecutive half-century for the country of his birth, who his father Rod, a medium pacer, had also played for in the 90s.
At the same time, 4000km away, Western Australia had just kicked off their Marsh Cup campaign with a batting line up comprising Josh Philippe, D'Arcy Short, Shaun Marsh, Cameron Bancroft, Ashton Turner, Marcus Stoinis, and Ashton Agar. Josh Inglis, Hilton Cartwright, and Joel Paris were left out of the final XI.  
This sums up a frustrating pattern in David's career from his teenage years to his mid-twenties. Given the depth in Western Australia's talent pool, he was constantly stuck behind a large queue of players.
Born in Singapore, Tim was two years old when Rod moved the family to Perth in the wake of the 1997 Asian Financial Crisis. Rod would go on to play Fourth Grade cricket for Claremont-Nedlands Cricket Club (CNCC) in Western Australian Grade Cricket in addition to heading up the local MILO Have-A-Go youth cricket program. It is, therefore, no surprise that Tim was drawn to the game from a very young age.
"That's my earliest memory: being down at Creswell Park [CNCC's main ground] and Belvista Oval, our second ground, from when I was 3 years old," David recounts with a grin on his face.
Claremont-Nedlands — who David played for up until last year before moving to Tasmania in the aftermath of a breakthrough BBL season — is his boyhood club in every sense of the word. He first entered the age-group system when he debuted for the CNCC Under-10s as an 8-year-old. Over the next decade, he progressed through the age group system along with the likes of Joel Paris, Matt Kelly, Will Bosisto, Durham opener Cameroon Steel, and Middlesex batter Steve Eskinazi.
However, as he got older, the depth of competition meant that David was still playing Second Grade for CNCC. Many of his batchmates, in contrast, were playing First Grade having been identified as potential state and even national team players from a young age. 
"I wasn't really getting anywhere in WA in the sense that I wasn't a pathway player, where they identify talent at 15 and you're basically given a lot of opportunities to press your case, so I always had to score runs to get picked in teams," says David.
When he did make the step up to First Grade cricket, he endured three middling seasons, averaging south of 30 with the bat in that period.
The runs, however, truly began to flow in 2016. He finished as the top run-scorer in England's Northeast Premier League, outscoring, among others, Scotland captain Kyle Coetzer and Leicestershire batter Jacques du Toit.
When he returned to Claremont-Nedlands for the Australian summer, David ended the season as the leading run-scorer across formats in First Grade. On the back of such a prolific year, David forced his way into the Western Australia Under-23 team for the Futures League in 2017/18 to go with his BBL contract.
When I ask him about the biggest factors behind his drastically improved returns, David puts it down to a change in mindset and preparation.
"If I compare what I used to do when I was 18 to what I do now, I'd probably be like 'that guy is wasting his time,' he admits.
"How I would train, the intensity of training… Some guys might see me train now, guys that aren't professional cricketers, and be like 'wow he's pretty intense.' I don't think I'm that intense when I train, but I certainly have a purpose to what I do and I don't really want to waste time."
David wasn't wasting any time at all, picking up a rookie contract with Western Australia for the 2018/2019 season.
Sadly, just as his career was taking off, David's seam bowling workload led to a stress fracture in his foot. He was sidelined from the rest of the season, including the Scorchers' entire BBL campaign. To make matters worse, Western Australia's talent pool meant he was unable to hold onto his rookie contract when he did return to full fitness the following season.
Tim, then 23, knew he had to do something to keep his dream of a professional contract alive. So he headed to Singapore, with whom father Rod had maintained a line of communication since his playing days.
The decision to play for Singapore has worked wonders. Batting on the slower surfaces of Southeast Asia has allowed him to develop into a dangerous player of spin in the middle overs. In the Asia Regional Qualifier for the 2019 Men's T20 World Cup, David's first tournament for Singapore, he scored a match-winning 77 (43) against a Nepal attack led by Sandeep Lamichanne. That victory propelled Singapore into the Global Qualifier, their first-ever ICC global event, which gave scouts around the world the opportunity to watch him on TV for the first time since his BBL debut. 
"Playing for Singapore opens up opportunities for other things, which, if I'm not contracted at home, I can pursue for a period of time… Playing on these wickets [across Southeast Asia] there's a lot of spin, it's hot and hard to bat, so at some point down the line I'll be able to call on those experiences."
Throughout his time with Singapore, David has endeavoured to transfer his knowledge about professionalism and purpose-driven training to his teammates.
"You don't get how much preparation goes in behind the scenes for guys to perform as frequently as they do, but I was lucky to get exposed to it [in my first BBL season]. I guess this is what I'm trying to get across to some people in the Singapore unit. As we put in better performances [and qualify for large global tournaments], there's going to be an exposure to better players. For us to keep improving, guys will have to be more professional."
Despite being stuck behind a large pack of players for close to a decade, David has barely put a foot wrong since being signed by the Hurricanes for the previous edition of the BBL. He played every single game for his new team in the 2020/21 season, scoring 179 runs at an average of 31 and a strike rate of 153.
He backed that up with an impressive PSL, racking up 180 runs at an average of 45 and a strike rate of 167. As if that weren't enough, he went on a rampage in the recently concluded Royal London One-Day Cup. His tournament tally of 340 consisted of two centuries, including a brutal 140* (70) balls against a hapless Warwickshire attack. Remarkably, he struck at 150, which was higher than anyone else with at least 100 runs in the tournament. David also comfortably led the six-hitting charts with 20 maximums in 8 innings to demonstrate that he can maintain his explosiveness for sustained periods.
Despite all his setbacks, the powerful Singapore international is clearly making up for lost time at breakneck speed. If the past few months are any indication, David could soon get called up to play for Australia.
Who would have imagined this ten months ago?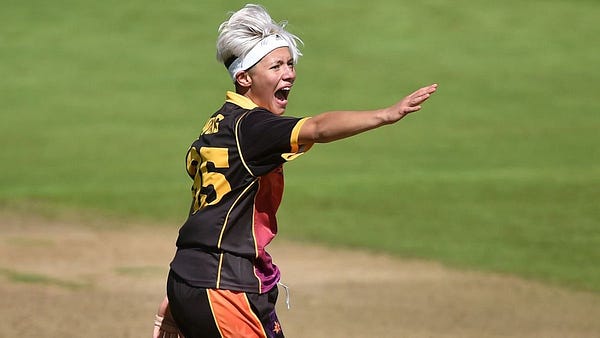 Header Image: St. Lucia Kings Twitter
—————
If you're a fan of a more global and gender-inclusive sport, please do sign up for this e-mailer, and if you'd like to, share this piece too.
Your interaction will help us grow especially with newer readers, so leave a comment. We appreciate all responses :)
Lastly, you can find us on Twitter and Facebook